RXBAR issues recall on list on flavors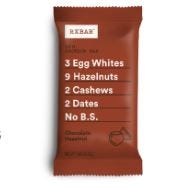 By: Alison Pierel
Email: news@abc6.com
Twitter: @ABC6
RXBAR has issued a recall to a number of their flavors due to the possibility that they contain undeclared peanuts.
This could cause serious issues for anyone who suffers a peanut allergy, should they consume these products that normally do not contain peanuts.
An investigation into this issue began when several people reported having an allergic reaction after eating these bars.
The company identified that the problem came from a third party supplier and have since changed their supplier, but are still issuing this recall as precaution.
The flavors affected are as follows:
RXBAR Apple Cinnamon, Blueberry, Chocolate Chip, Chocolate Hazelnut, Chocolate Sea Salt, Coconut Chocolate, Coffee Chocolate, Mango Pineapple, Maple Sea Salt, Mint Chocolate, Mixed Berry, Pumpkin Spice.
RXBAR Kids: Apple Cinnamon Raisin, Berry Blast, Chocolate Chip
The "Best By Date" on your product will indicate if it is within recall, as well as if you bought them in a single pack of multi-pack. For that information click here.
©WLNE-TV / ABC6 2019