Fire set to Sakonnet River Bridge days before toll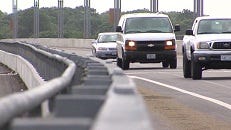 By Dana Griffin
PORTSMOUTH, RI- On the eve of what's expected to be the largest Sakonnet River Bridge toll protest, an arsonist has turned this so-far peaceful objection to the upcoming 10–cent toll, into a felony.
"It's a cowardly act for somebody to do this. It's also, it's arson," said Rhode Island Bridge and Turnpike Authority Chairman, David Darlington.
Around 1 AM, wiring in two electrical manholes, which powers the bridge, was set on fire.
Darlington says luckily, back–up generators kicked in, so this will not affect the official start date of the tolls on Monday.
Darlington said, "The system works just fine, and all the primary systems have now been repaired."
The man holes that were set on fire have been covered by large cement blocks to prevent anyone from opening them.
The 10–cent toll controversy has prompted many to speak out publically against the Turnpike and Bridge Authority. Portsmouth business man John Vit is one of those opponents. He says he does not condone arson and tomorrow's protest is meant to be civil.
RIBTA is not shutting down the protest. The chairman says security might be added just as a precaution.
"We have a lot of surveillance equipment so we have video of the activities going on and that's been turned over to the State Police Department. It is an active investigation right now.
©2013 ABC6/WLNE-TV. All Rights Reserved.