Sacred Heart Edges Bryant In Smithfield Shootout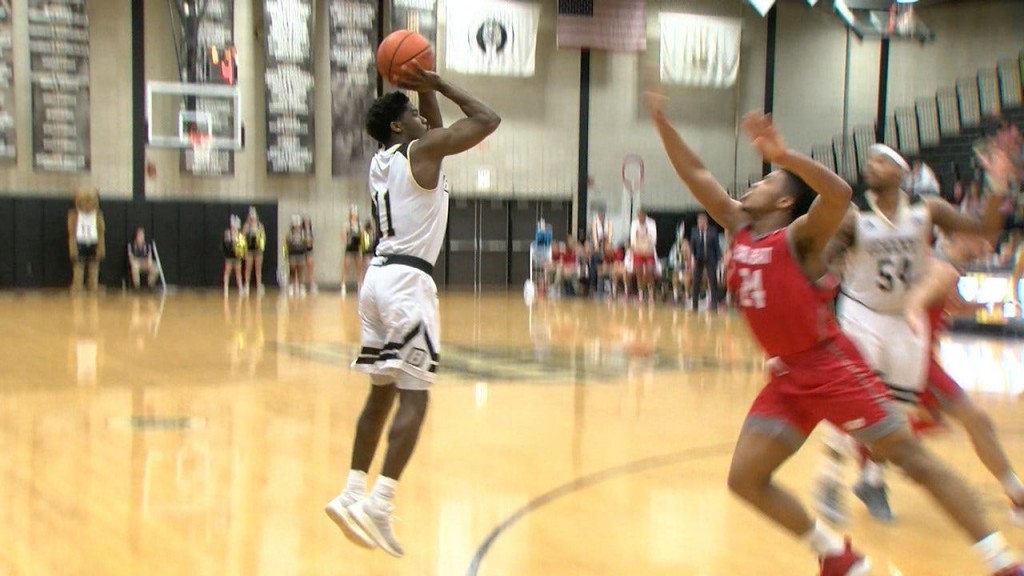 Bryant University Press Release
SMITHFIELD, R.I. – Junior Adam Grant (Franklin, Va.) matched his career-high with 32 points and junior SaBastian Townes (Chesapeake, Va.) added 27 in a record-setting night at the Chace Athletic Center, but Sacred Heart charged past Bryant in the final minute of a 105-104 contest Thursday night.
Bryant set Division I program records for points in regulation (104) and field-goal percentage (69.2). The Bulldogs scored 50 points in both halves for the first time in the program's D1 history.
GAME INFORMATION
Sacred Heart 105, Bryant 104
Records: Bryant (8-16, 5-8 NEC), Sacred Heart (12-14, 8-5 NEC)
Location: Chace Athletic Center (Smithfield, R.I.)
KEY MOMENTS
Bryant opened up a 74-58 lead by outscoring Sacred Heart 20-10 over the first 6:07 of the second half.
A three-point play and two technical free throws turned a two-point Pioneer deficit into a three-point advantage with 12 seconds remaining.
HOW IT HAPPENED
A deep three-pointer from senior Taylor McHugh (Centreville, Va.) beat the shot clock buzzer to bring Bryant within 19-15 with 13:32 remaining in the opening half.
A 9-0 run put the Bulldogs ahead 29-23 after five straight points from Grant and a layup from Townes at the midway point of the first half.
A three from Townes and basket by Grant pushed the lead to 12 at 47-35 with 3:08 to play before the half.
An 8-0 Pioneer run cut the Bryant lead to 47-43 before Bryant took a 54-48 lead into the locker room on 71.4 percent shooting.
The Bulldogs opened the second half on a 10-2 run to go up 64-50 with 16:54 to play on a layup from freshman Patrick Harding (Fairfield, Conn.).
A pair of Sacred Heart threes twice cut the lead to one, as the teams went into the final media timeout with Bryant leading 91-90.
Bryant led 98-96 with 12 seconds remaining when Sacred Heart's Sean Hoehn sank a game-tying layup and drew a blocking foul. Hoehn made the free throw and two more for a technical foul to put Sacred Heart ahead 101-98. The Pioneers would lead the rest of the way.
STATS
Grant scored 32 points on 10-of-14 from the field and 6-of-9 from three while matching his career-high with seven assists.
Townes was 10-of-13 shooting and 3-for-5 from three for 27 points.
Freshman Joe Kasperzyk (New Haven, Conn.) added 13 points, while junior Juan Cardenas (Medellin, Colombia) matched his career-high with 12 points. Cardenas added seven rebounds and three blocks.
Bryant shot a Division I program-record 69.2 percent (39-for-52). Sacred Heart was at 50.8 percent for the contest.
The Bulldogs outrebounded the Pioneers, 27-26.
GAME NOTES
Bryant surpassed the previous Division I single-game mark of 103 points in regulation in a 103-95 victory over Quinnipiac Jan. 10, 2013.
The shooting percentage bested a 65.3 percent mark against Saint Francis U March 2, 2013.
Bryant's 36 made field goals ranked fifth in a game in the Division I era.
The Bulldogs' 13 made three-pointers match a season-high and tie for fifth in the program's D1 history.
Bryant's 56.5 percent mark from beyond the arc places fourth in D1 program history.
The 54 first-half points were the most in a half this season.
Cardenas passed Ben Altit for fifth in Bryant's Division I era in career blocks with 39.
Bryant drops to 6-17 against Sacred Heart in the Division I era and 14-25 all-time.
UP NEXT
Bryant returns to the road for a Saturday afternoon contest at Fairleigh Dickinson. The 4:30 p.m. tip in Hackensack, New Jersey, can be seen on NEC Front Row.
Tickets for home games at the Chace Athletic Center are available by clicking HERE or calling (401) 319-TIXX.
Follow Bryant University men's basketball on Facebook, Twitter and Instagram to get an inside look at the program.