Sale, Kimbrel, Betts Named AL All-Stars; Bogaerts Up For AL Final Vote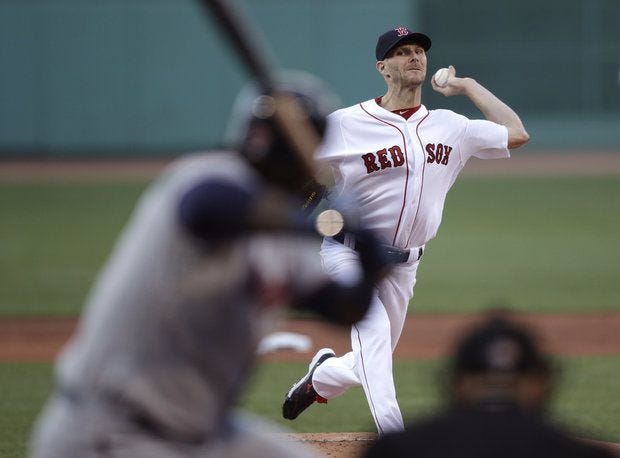 Boston Red Sox Press Release
BOSTON, MA – Three Boston Red Sox players were selected to the American League roster for Major League Baseball's 88th All-Star Game, which will take place Tuesday, July 11 at Marlins Park in Miami, FL.
Voted in by the players to participate in the Midsummer Classic were left-handed pitcher Chris Sale, right-handed pitcher Craig Kimbrel, and outfielder Mookie Betts.
In addition, shortstop Xander Bogaerts can be selected as the final player on the American League's 34-man roster via the Esurance MLB All-Star Game Final Vote.
Sale has earned an All-Star selection in each of his seasons as a starting pitcher (2012-17), joining Clayton Kershaw as the only pitchers named to a Midsummer Classic roster in each of the past six years. Sale started for the American League at Petco Park in 2016, when he allowed one run in 1.0 inning and did not factor into the decision. The All-Star Game's starting pitchers will be announced on Monday, July 10. Seven Red Sox pitchers have started the Midsummer Classic: Derek Lowe (2002), Pedro Martinez (1999), Roger Clemens (1986), Dennis Eckersley (1982), Bill Monbouquette (1960), Mel Parnell (1949), and Lefty Grove (1936). The last pitcher to start an All-Star Game in consecutive years was Randy Johnson (2000-01), and the last American Leaguer to do so was Dave Stieb (1983-84). No pitcher has ever started consecutive Midsummer Classics as a member of two different organizations.
Acquired by Boston from the Chicago White Sox via trade on December 6, 2016, Sale entered Sunday leading the majors in strikeouts (166) and innings pitched (120.2) and ranking among AL leaders in ERA (2nd, 2.61), opponent batting average (1st, .197), WHIP (1st, 0.90), strikeout-to-walk ratio (1st, 7.55), and wins (2nd, 11). The left-hander is 10-1 since May 1, with the Red Sox going 13-4 in his 17 starts. He has recorded 10 or more strikeouts in 11 of his starts, tied with Pedro Martinez for the most ever by a Red Sox pitcher before the All-Star break. The only Red Sox pitcher ever to lead the majors in strikeouts at the break is Roger Clemens, who did so in 1988 (186) and 1991 (123).
Kimbrel has also earned his sixth All-Star selection, including four with the Atlanta Braves (2011-14) and two as a member of the Red Sox (2016-17). He leads the American League in saves and save percentage (23-for-24, 95.8%), having converted each of his last 17 opportunities and 42 of his last 43. On Thursday against the Minnesota Twins, Kimbrel set the major league record for most consecutive successful save opportunities at Fenway Park, as he improved to 30-for-30 at the venue in his career.
Entering Sunday, Kimbrel led AL relief pitchers in ERA (1.01; 4 ER/35.2 IP) and paced all relievers in opponent batting average (.100), opponent OPS (.293), and WHIP (0.48). His 16.15 strikeouts per 9.0 innings ranked second in the majors, as he has struck out 50.8 percent of batters faced (64 of 126). During one stretch from May 11 to June 3, he held opponents hitless in 32 consecutive at-bats. Kimbrel has held right-handed hitters to a .030 batting average (2-for-67) in 2017, with righties going 0-for-47 against him to begin the season. He struck out three batters on nine pitches in the ninth inning on May 11 at Milwaukee, and on May 25 against the Rangers he struck out four batters in the ninth. On June 6 at Yankee Stadium, Kimbrel struck out five batters in a four-out save, marking the first time a pitcher had ever recorded more strikeouts than outs in a save of more than 1.0 inning (source: Elias Sports Bureau).
Betts will be making his second appearance on an All-Star team, having started the 2016 Midsummer Classic in right field for the AL squad. In today's 15-1 win over the Toronto Blue Jays, Betts set a Red Sox record and tied the major league single-game mark for most RBI as a leadoff hitter (8), as he went 4-for-6 with two home runs. Only 24 years old, he has already set the Red Sox career record for most multi-homer games as a leadoff hitter (7). Betts also had eight RBI against the Arizona Diamondbacks on August 14, 2016, making him the only Red Sox player ever to record at least eight RBI in a game multiple times before turning 25 years old.
The 2016 American League MVP runner-up, Betts is batting .286 (92-for-322) with team highs in doubles (27), home runs (15), RBI (51), runs scored (56), walks (39), stolen bases (15), slugging percentage (.509), and OPS (.874). Entering today's game, his 27 doubles were tied for the major league lead and he ranked among AL leaders in runs (T-7th) and extra-base hits (T-4th, 40). Betts has drawn 39 walks and struck out only 29 times, and in his last five games he is 11-for-21 (.524) with a .630 on-base percentage. According to FanGraphs, Betts also entered Sunday leading the majors in defensive runs saved at any position (17), having also led the majors in that category in 2016 (32).
Fans can now begin voting to select Bogaerts as the final player on the American League roster via the 2017 Esurance MLB All-Star Game Final Vote. Votes can be cast online at RedSox.com or MLB.com and on mobile phones. The AL and NL winners will be announced on Thursday, July 6.
This is the second appearance on the Final Vote ballot for Bogaerts (also 2015), who made his All-Star Game debut in 2016 as the AL's starting shortstop. A two-time Silver Slugger honoree, the 24-year-old leads the Red Sox in hits and batting average (.314, 95-for-303). He is 9-for-10 in stolen base attempts and has scored 49 runs, posting a .366 on-base percentage and an .821 OPS. Bogaerts also leads Boston with 28 multi-hit games this season, and since the start of 2015 his 483 hits rank second in the majors. A Red Sox player won the AL Final Vote in 2002 (Johnny Damon), 2003 (Jason Varitek), and 2007 (Hideki Okajima).
— RED SOX —