Sale Stellar Again, Three Homers Propel Red Sox To Win in Kansas City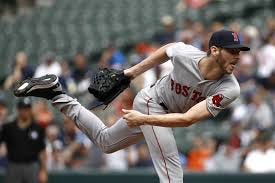 Chris Sale struck out 12 in six innings, Mookie Betts, J.D. Martinez and Xander Bogaerts homered, and the Boston Red Sox beat the Kansas City Royals 10-5 on Friday night.
Sale's 16-inning scoreless streak was snapped by Alcides Escobar's two-out RBI single in the second, but that was it for the skidding Royals against the ace left-hander. Sale (9-4) has allowed one run and 10 hits over 20 innings in his past three starts.
Boston stretched its win streak to four with its ninth victory in 11 games overall. It leads the majors with 60 victories and a .674 winning percentage.