Sales Tax Holiday in Massachusetts; Many Want it in Rhode Island, Too!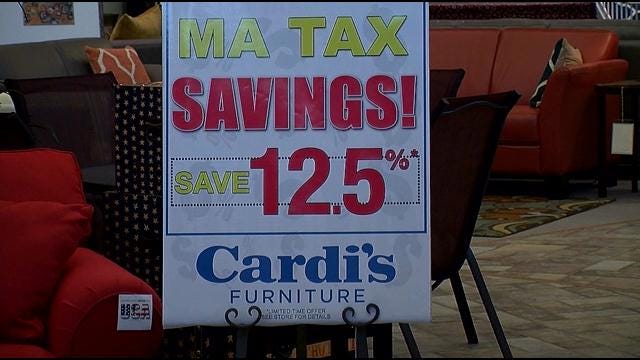 Twitter: @markcurtisABC6
email: mcurtis@abc6.com
People were already streaming into the Cardi's Furniture store in Swansea Friday, checking prices in advance of this weekend's sales tax holiday in Massachusetts.
The Bay State will have no sales tax Saturday and Sunday, and big crowds of shoppers are likely.
"Whenever you get excitement about a product – whether it be about a news product; whether it be about a retail product – any product is a wonderful thing. It really focuses people on buying this weekend and that's a great thing," said Peter Cardi of Cardi's Furniture.
Since the sales tax holiday only applies in Massachusetts, Cardi's is cutting base prices by 12–and–a–half percent at all stores including Rhode Island locations.
But down the road, it would like the ocean state to have a sales tax holiday, too.
"If Rhode Island could do the same, it would be beneficial to everybody," said Cardi.
ABC6 Chief Political Reporter Mark Curtis said, "Critics say that having a sales tax holiday weekend In Rhode Island, would simply be too costly. That in an average two–day period, the state takes in about 5 million dollars in sales taxes."
But tax cutting advocates say in the long run, people will buy more, and that means the state will take in more money.
"You find that with most sales tax cuts, you pay back about two–thirds of the lost revenue through increased economic activity," said Mike Stenhouse from the Rhode Island Center for Freedom and Prosperity.
And shoppers we spoke with agree.
"Yeah, I would go out and buy more stuff that you usually pay tax on." Q: So you think it's a good idea?
"Yeah, it's a great idea," said shopper Petra Anderson, outside a Warwick store.
The Massachusetts sales tax holiday applies to items priced under 25 hundred dollars.