Salt is not a concern for March snow storm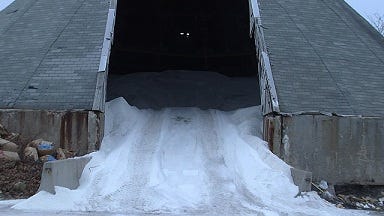 By: Samantha Lavien
Twitter: @samanthalavien
For the first time in months, salt is not a concern heading into a snow storm.
City's and town's across the region have finally have received new shipments and have more than enough supplies to battle the incoming weather.
"Much, much, much more relieved than usual. The added stress without having the salt, it is a logistical nightmare," said John Perry the Director of Operations at the Fall River DPW.
A national shortage of salt made battling the snow very difficult this winter. The state of Rhode Island ran out at one point and Massachusetts ran very low. Many city's and towns including Fall River barely had enough to get by.
"We were as low as I've ever seen it. I've been here going on 15 years now and we were at a point where I mean if we a half an inch of snow we wouldn't have been able to take care of it," said Perry.
New shipments started coming in to the region over the last couple of weeks. Providence now reports it has 500 tons of salt and in Fall River there's about 1500 tons.
"It's imperative. It's the most important part of what we do because you don't want to overburden your town or your city with too many plow blades," said Perry.
But, even though snow crews may be feeling a bit of relief, many in the area are just feeling frustration knowing that the winter weather isn't over yet.
"I'm not too happy because I like that stuff only in Christmas cards," said Gusdavo Sousa.
"I just hope it's just one more time because I'm really tired of it, but you just have to deal with it," said Maria Aragro.
"It's getting a bit tiresome all of this shoveling, you know. I can't wait for Spring," said Cynthia Diniz.
Though it might not seem like it, Spring did officially begin last week on March 20.
(c) WLNE-TV 2014