Salve Regina Beats Johnson & Wales in Game Played at the Dunk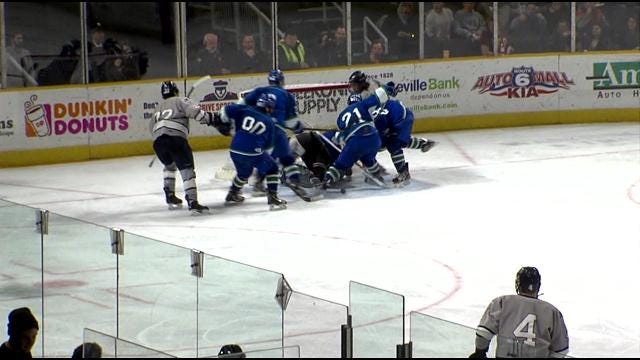 Johnson and Wales news release…
A crowd of nearly 2,500 fans saw the men's ice team drop a hard-fought 2-1 decision against intra-state rival Salve Regina in an ECAC Northeast contest at the Dunkin' Donuts Center on Tuesday evening. The crowd is believed to be the biggest to ever witness a JWU sporting event.
Johnson & Wales got on the board first when junior Alex Porrier (Rutland, Vt.) put in a pass from freshman Drew Kariofiles (Cincinnati, Ohio) at the 12:31 mark. The Wildcats took the one goal lead into the locker room at the first intermission after out shooting Salve Regina by a 10-8 margin.
After battling back and forth throughout the second stanza, Salve Regina was able to knot the score at 1-1 when sophomore Lucas Sousa (Billerica, Mass.) scored with assists to sophomore Liam Centrella (Andover, Mass.) and senior William Gomolinski (Western Springs, Ill.) with 5:54 left in the period. The two teams headed into the second intermission deadlocked at 1-1.
The visiting Seahawks took the 2-1 lead just 1:12 into the third period on an unassisted short-handed goal by sophomore Marc Biggs (Dallas, Texas). JWU had several chances down the stretch, but couldn't convert as Salve Regina held on for the 2-1 victory.
Freshman Joey Ballmer (Kalamazoo, Mich.) tallied 31 saves in the setback for JWU while Alexander Devine (Winchester, Mass.) had 25 stops for Salve Regina in the victory.
With the loss JWU falls to 14-4 for the season and 4-3 in the ECAC Northeast while Salve Regina improves to 7-11 on the year and 5-2 in league play. The Wildcats will return to action on Saturday, February 1st when they travel to Suffolk for an ECAC Northeast starting at 4:40