Same sex couples can pre-register for RI marriage licenses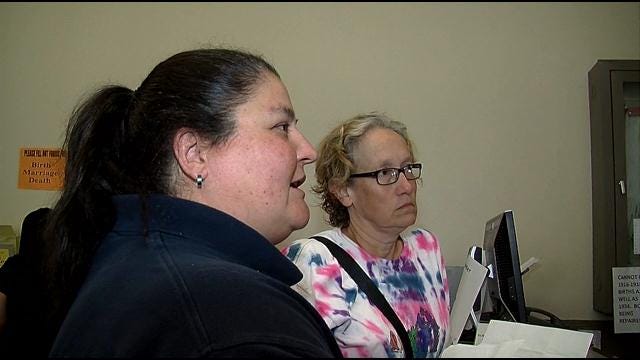 by ABC6 Chief Political Reporter Mark Curtis
Same–sex couples stopped by Providence city hall pre–applying for marriage licenses that will be issued for the first time on Thursday.
"You know we have a son and it would be really great to have a family that means something to him legally, and to protect all of us," said spouse-to-be Elise Jakabhazy.
One of the reasons for pre–registering is to avoid the rush.
"Well we wanted to get our marriage license put into the process, you know, first come–first served basically," said Jakabhazy's partner, Diane Vatcher.
Among the paperwork needed to get married: photo ID cards; proof of residency; and original birth certificates from both spouses, but there is a catch.
ABC6 Reporter Mark Curtis said, "If you have a birth certificate that is in a different language, it will have to be translated into English and notarized, before you can get a marriage license."
The Office of Vital Statistics is trying to make sure everyone knows the rules, so no one is shut out on Thursday.
"That's right," said Serena Conley, who directs the Providence Office of Vital Statistics. "We have no idea how many people we'll have, so we're hoping that this will make things easier for everyone," Conley added.
But even the folks who pushed for marriage equality don't think there'll be a huge rush to get married the first day, because it's such a big step.
"It's not just about a laundry list of rights and benefits. It's a public affirmation of their love and commitment to the person you want to spend the rest of your life with," said Ray Sullivan for Rhode Islanders United for Marriage.
The first same-sex marriage licenses will be issued at 8:30 Thursday morning.