Sandy Hook survivor addresses crowd in Bristol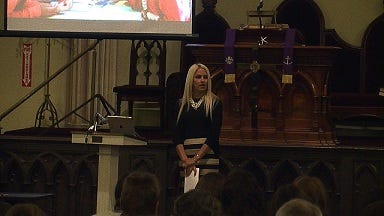 By: Samantha Lavien
Twitter: @samanthalavien
One of the hero's from the Sandy Hook Elementary School massacre has turned the tragedy into something productive; a foundation for children to help other children.
First grade teacher Kaitlin Roig-DeBellis spoke in Bristol Friday night to a group of educators about the organization named "Classes 4 Classes."
Roig–DeBellis says she refuses to be defined by the unfathomable tragedy that occurred at her school 15-months ago.
"My message is really one of you can always choose hope," said Roig-DeBellis.
With a gunman shooting up Sandy Hook, Roig–DeBellis bravely crammed 15 panic stricken students into a 3 by 4 foot bathroom.
She teared up as she recalled the events of that day during her speech.
"In those moments I needed to tell them what I would want them to hear, so I said, I'm so lucky to be your teacher, I'm so happy that you are in my class and I love you all very, very much," said Roig– DeBellis."
Roig-DeBellis says she was inspired to create her foundation which helps to pay forward good deeds to other children after the tragedy. She says the idea came to her after her class received loads of gifts when they eventually returned to school.
"We reached out to a class said how can we help, what do you need? They told us, we sent it and the idea just snowballed from there," said Roig-DeBellis.
At this point the foundation has helped over 1,000 students and spread to more than 13 states.
"In life we're the ones who have control. We can be the change agents. We have to be the change we want to see in the world," said Roig-DeBellis.
Roig-DeBellis is on sabbatical right now, but she says she most certainly will teach again.
©WLNE-TV / ABC NEWS