Santana's Home Runs Help To Stop PawSox Win Streak At Five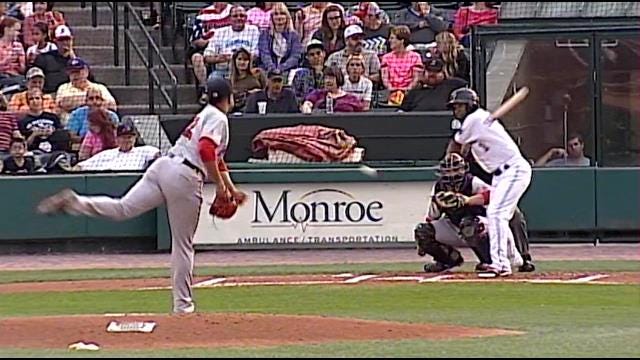 Pawtucket Red Sox Press Release
(Rochester, NY) – Danny Santana hit two home runs and Logan Darnell tossed eight strong innings to lead the Rochester Red Wings to a 5-1 win over the Pawtucket Red Sox on Saturday night at Frontier Field. The loss snapped Pawtucket's five-game winning streak and kept the PawSox winless in six games this summer in Rochester.
Pawtucket had runners at the corners but did not score in the first; immediately thereafter Santana and Darnell took over. Santana blasted his first homer of the season leading off the bottom of the first against PawSox starter Edwin Escobar. Escobar worked around another hit and his first walk to escape the first with Rochester ahead 1-0.
Darnell then began a stretch in which he retired 12 in a row; by the time he struck out Marco Hernandez to open the fifth inning, the Red Wings had scored four more times.
Santana homered again in the top of the third to make it 2-0 Rochester, and he was right in the middle of a three-run rally in the fourth. With one out, Escobar allowed a single to Carlos Paulino and walked Doug Bernier. Santana then singled to load the bases. James Beresford singled to plate two, then Reynaldo Rodriguez lifted a sacrifice fly to center that pushed the Wings ahead, 5-0.
The Sox got their lone run in the sixth. Deven Marrero led off the inning with a single and scored on Carlos Rivero's double.
In the end, Darnell (5-1) allowed only one run on five hits with eight strikeouts and one walk.
Jorge Marban relieved Escobar and pitched three perfect innings before Pat Light retired the Red Wings in the ninth.
The Sox will play the second of the three-game series in Rochester on Saturday afternoon at 1:35. Right-hander Shawn Haviland (5-8, 4.16) takes the mound and will be opposed by Wings' lefty Pat Dean (10-11, 3.06).
Pawtucket returns to McCoy Stadium for the final seven-game homestand of the season on Tuesday, September 1st at 7:05 P.M. Good tickets are available for all remaining games; visit www.pawsox.com or call 401-724-7300 to get them now.