Scary Moment for Newly Acquired Angels Arm in Sox Win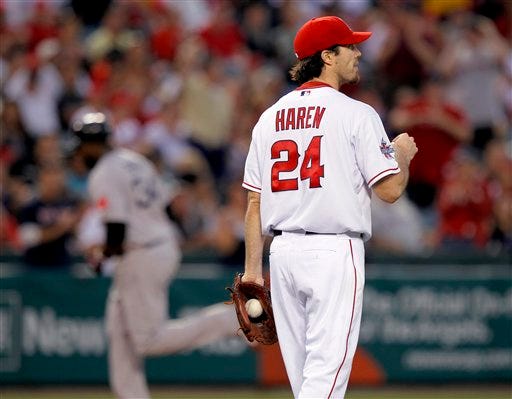 ANAHEIM, Calif. (AP)—When the line drive hit Dan Haren's right forearm with a sickening smack, a collective shudder pulsed through Angel Stadium. Not even the Boston Red Sox wanted Haren's debut with the Los Angeles Angels to end with an ugly injury.
A few hours later, Haren grimaced gratefully when he rubbed the bandage on his bruised arm. The right-hander is fairly certain he lost nothing more than a decision Monday night.
David Ortiz hit two homers in the same stadium where he won the Home Run Derby nearly two weeks ago, and Clay Buchholz pitched seven strong innings in the Red Sox's 6-3 victory over Dan Haren and the slumping Angels.
Haren struck out eight in his Angels debut before getting tagged by Kevin Youkilis' fifth-inning line drive while trying to catch it. Los Angeles traded four players to Arizona to land the three-time All-Star, whose forearm will be re-evaluated Tuesday.
"It's pretty sore, but I don't think it hit bone or anything," Haren said while standing in front of his new locker. "It was just the meat of my forearm. They said I was lucky, that it looks like I'll be fine to go next time. It swelled up pretty good, but it's nothing I'm worried about."
Ortiz hit a solo shot in the third inning and a two-run drive in the eighth during the 37th multihomer game of his career. Hideki Matsui hit a two-run homer in the eighth for the Angels, but J.D. Drew hit a two-run double in the ninth for Boston, which is unbeaten in five meetings with the Angels this season.
Youkilis had three hits and Victor Martinez had a run-scoring single in his first game back from the disabled list for the Red Sox, who opened the final series of their 10-game West Coast trip by winning the AL division series rematch.
The Red Sox were grateful to hear Haren's injury doesn't appear serious.
"That's not really the way you want to see somebody getting out of the game," said Ortiz, who struck out against Haren in the first inning before putting a fly into the short right-field porch in the third. "That was kind of scary. Every time you see a guy getting hit by a line drive, it seems like everything stops. But he was tough tonight, let me tell you. That first at-bat I had against him, he threw me some nasty pitches."
Bobby Abreu homered early in the fifth loss in six games for the Angels, who had a tumultuous opener to a key six-game homestand after landing Haren (0-1). The durable veteran's debut in his native southern California was both promising and worrying.
"I thought he was pitching well, going right after hitters," Angels manager Mike Scioscia said. "Outside of the home run to Ortiz, he was pitching great baseball. You have to give Buchholz some credit."
Haren yielded seven hits and two runs before Youkilis' two-out drive back to the mound. Haren dropped to his knees in pain on the infield grass, and the Angels' training staff quickly ushered him off the field.
Haren largely stayed out of trouble during 62 pitches over 4 2-3 innings, but again yielded a healthy number of hits—at least six for the 20th time in his 22 starts this season. He expects to be even more comfortable if he's cleared to make his next scheduled start Saturday against Texas.
"Today was the most relaxing day I've had in a while," Haren said. "Going through the (trade) rumors was a little exhausting. Playing for a team that's that many games below .500 can drag you down a little. It's tough to come in there every day—not saying I wanted to leave (Arizona). I just want to win, and you've got a lot of guys in here that have won."
Buchholz (11-5) was impressive in his second start back from a stint on the disabled list with a strained hamstring, striking out seven and giving up just five hits. The All-Star selection pitched out of a bases-loaded, no-outs jam in the second inning, retired 11 straight in the middle innings and threw 114 pitches to win for the eighth time in 10 decisions.
"In the third inning, I just thought it was going to be another long day for the bullpen," Buchholz said. "Fortunately, I was able to throw a couple of changeups, and sort of caught the feel for it."
After Ortiz boosted Boston's lead in the eighth against reliever Fernando Rodney, Matsui trimmed it back to one run with a two-out homer, the fourth in six games for the once-struggling slugger.
With setup man Daniel Bard resting, Red Sox closer Jonathan Papelbon(notes) came on for the final out of the eighth. Drew then hit a double off the lip of the right-field wall against Angels reliever Michael Kohn, making his major league debut.
"A couple more inches, and we're all right," Drew said. "But it worked out pretty good."
Drew then appeared to score from third base on an errant pitch by Rich Thompson(notes), but umpire Wally Bell ruled Thompson had tagged him out at the plate. Boston manager Terry Francona vehemently argued the call.
"I was easily in there, but that's the nature of the game," Drew said.
Papelbon finished up the ninth for his 23rd save.