Schaller Scores, Khudobin Shuts Out Sabres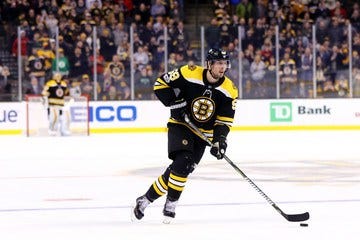 Jake DeBrusk scored for the second straight night, Anton Khudobin turned away 36 shots and the Boston Bruins blanked the Buffalo Sabres 3-0 on Tuesday.
Tim Schaller and David Backes added empty-net goals in the closing minutes of the game. After a 7-2 victory over Columbus on Monday, the Bruins beat the Sabres in a low-scoring affair to win for the seventh time in 10 games. The Sabres threatened to get on the board first in the second period, but Khudobin made a pad save on a shot from Evander Kane to keep the game scoreless. With 9:46 remaining in the period, DeBrusk carried the puck into the Sabres zone and fired a wrist shot over Robin Lehner's shoulder. DeBrusk has goals in consecutive games and four points in his last two. With less than two minutes remaining in the second, the Sabres narrowly missed capitalizing on two scoring chances. First, Kyle Okposo was late passing to Benoit Pouliot on an odd-man rush. Moments later, Pouliot had his shot blocked after Khudobin allowed a big rebound. Khudobin stopped all 10 Sabres shots in the third to earn his first shutout of the season. The Bruins are 8-3-2 when Khudobin starts this season. NOTES: Bruins forward David Krejci missed his second straight game with an upper-body injury. … The Sabres activated Jacob Josefson from injured reserve. He missed nine games with an ankle injury. … The Sabres have been shut out four times since Nov. 25.
UP NEXT
Bruins: Host the Winnipeg Jets on Thursday in the opener of a three-game homestand. Sabres: Host the Philadelphia Flyers on Friday in the finale of a three-game homestand.