School bus fire in Attleboro under investigation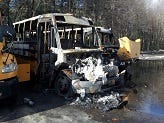 By Dana Griffin
ATTLEBORO, MA- Multiple school buses caught fire Sunday night at the Pleasant Auto Center parking lot in Attleboro.
"There are three buses destroyed and another damaged somewhat," said Cynthia Carol.
Carol, owner of the Pleasant Auto Center parking lot says the space is rented to H and L Bloom Bus Company out of Taunton.
She was here that night after the buses were fully engulfed and red flames and smoke filled the air.
"We don't know what but, it was a very wet night so it was surprising to see that damage, and that magnitude. It doesn't look good," said Carol.
Carol adds, "School won't be canceled and Bloom Bus Company, it's a large bus company and they do have back–up vehicles and they'll be ready for service as usual."
The lot owner is taking steps to help keep both companies better aware of the property.
"We have only surveillance on the inside and starting this week, we'll have them on the outside as well. It's very sad that it comes to that, and I hope it's the last occurrence that we see," said Carol.
Police are still investigating. A cause has not been determined. The lot has had minor cases of vandalism in the past.
©2013 ABC6/WLNE-TV. All Rights Reserved.