More Districts Considering School Uniforms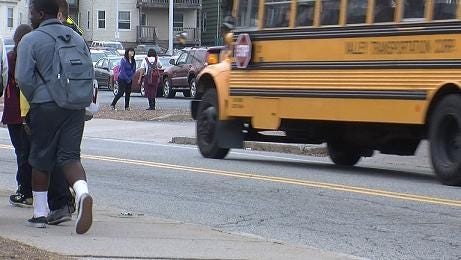 School uniforms seem to be a hit in Woonsocket public schools, but are they right for other districts across the state? Well, Central Falls is now kicking around the idea. There's a meeting tonight at the high school to test the waters.
School uniforms are typically seen in private schools. But more and more public schools are considering them, including Westerly and Newport. Woonsocket is in their second year of the dress code and now parents in Central Falls say they want their kids in them too.
Maria Betancur's son goes to Central Falls High school. She says having uniforms will make all kids more equal, reduce bullying, and keep kids focused.
"I want uniforms, it's really unfair sometimes and it causes bullying and it's something that we want to try and convince other parents that we don't need that," said Betancur.
18-year-old Leo Dalton is a senior at Woonsocket High school, where solid colors have been the norm for over a year.
"We're supposed to wear gray, black, maroon shirts, no logos unless its Woonsocket's," said Dalton.
He says sporting the same clothes as his peers makes him feel equal.
Dalton says, "I'll admit I'm not on the wealthy side, but I'll go to somewhere cheap and buy clothes and they look just as good as other people who have the richer clothes on."
The superintendent of Woonsocket Schools Giovanna Donoyan, says the uniforms were introduced to get gang colors and name brands out of the classrooms to make students focus on school, and it's worked.
Woonsocket parent, Jayne Lawrence, says the uniforms have been great for her son. She thinks the dress code should be state wide.
"It's the best thing that any school can do is to institute a dress code," says Lawrence.
Parents in Central Falls are just taking the first step towards school uniforms, but they're hopeful they can follow in Woonsocket's footsteps.
Betancur says, "It's why we do this forum because we want to hear from parents, students, and many different people."
Tonight's meeting is not being held by Central Falls school district, but by a parent group called Progreso Latino. They've invited school leaders, students, and legislators. For this idea to go any further , legislation would have to be put in place.