Scott Brown; will not be a candidate for Mass Gov.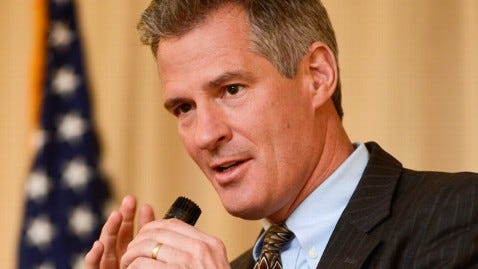 By News Staff
Twitter: @ABC6
BOSTON (AP) Former Massachusetts Sen. Scott Brown tells WBZ-AM he won't be a candidate for Massachusetts governor next year. The former Republican senator and state lawmaker spoke Wednesday night on the "NightSide With Dan Rea'' radio program.
Brown had been mentioned as a possible GOP candidate. Democratic Gov. Deval Patrick is not seeking a third term. Brown had told supporters at the Iowa State Fair on Sunday that he is "exploring a possible run'' for president in 2016.
Brown won a 2010 special election to fill the unexpired Senate term of the late Edward Kennedy. He lost in 2012 to Democrat Elizabeth Warren.
Another Republican believed to be weighing a gubernatorial bid is Charles Baker, the former CEO of Harvard Pilgrim Health Care and the 2010 GOP nominee for governor. Several Democrats are running.
© WLNE-TV 2013/ Associated Press