Scranton/Wilkes-Barre Manufactures Late Run To Edge PawSox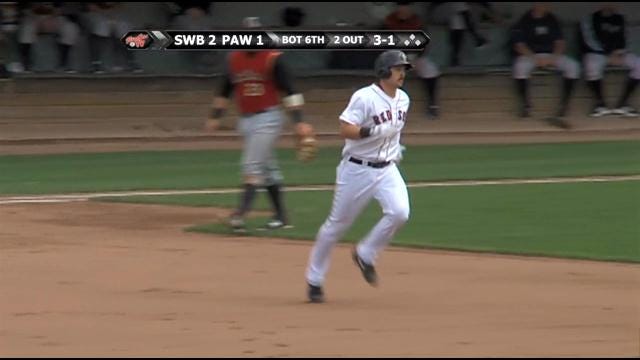 Pawtucket Red Sox Press Release
Pawtucket, RI – Scranton/Wilkes-Barre relievers Pat Venditte and Danny Burawa combined for 3.1 innings of scoreless and hitless relief and Jose Pirela's eighth-inning RBI groundout provided the winning run as the RailRiders defeated the Pawtucket Red Sox, 3-2, Sunday afternoon before 5,270 fans at McCoy Stadium in the second of a four-game series.
Venditte (1-0), a switch-handed pitcher who was making his 2014 RailRiders debut, entered in relief with the score tied at 2 in the sixth inning and struck out all five batters he faced. Burawa recorded the final five outs, pitching around a pair of ninth-inning walks by inducing a game-ending double play grounder from Garin Cecchini.
Pirela's RBI came against reliever Rich Hill (1-2), who hit Kyle Roller with a pitch to begin the eighth inning. Zelous Wheeler then singled to put two runners on base, and Dean Anna's fielder's choice left runners on the corners with one out and set the stage for the game-winning 6-3 ground out.
Ryan Lavarnway homered into the left field bullpen for the PawSox to tie the game in the sixth inning, his second of the season. The shot chased Scranton starter Zach Nuding from the game after 5.2 innings of work.
Rubby De La Rosa started for Pawtucket (25-20) and allowed a two-run single to catcher Jose Gil in the second inning that opened the scoring. De La Rosa issued a total of nine hits in five innings pitched, but limited the damage to only two runs thanks in large to a season-high eight punchouts.
Alex Hassan's RBI fielder's choice in the third inning put the PawSox on the scoreboard. No Pawtucket player collected more than one of the team's six hits, while Pirela, Adonis Garcia and Ramon Flores each had two of Scranton's ten.
Game three of the series is slated for a 7:05 pm first pitch on Monday night. Right-hander Allen Webster (2-2, 2.54) will get the ball for manager Kevin Boles, while righty Joel De La Cruz (1-1, 2.00) is expected to start for the RailRiders.
Good seats are still available at the McCoy Stadium box office, by calling (401) 724-7300 or by visiting pawsox.com. Radio coverage on 920 AM (WHJJ) and also streaming online begins at 6:50 pm.