Search on in Johnston for Arsonist After Apartment Fire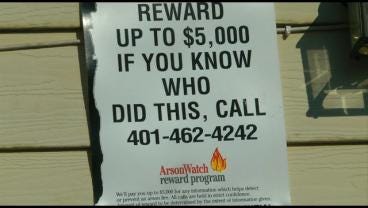 The search is on for an arsonist in Johnston, after a fire at an apartment complex early Tuesday morning.
One person was hurt. And, another 18 people are now looking for a new place to live.
Flames burned through the roof of a three-story apartment building on Starr Street in Johnston just after 4 a.m. Tuesday. As crews fought back the flames and smoke, the people inside ran for their lives.
"I woke up to the smell of smoke, and I seen the red fire out in the bushes," said April Berthiume. "I started screaming for my kids to wake up and get out of the house. And, all I can tell you is that it started on the outside of the house and worked its way in."
Asked ABC6 Reporter Mark Curtis: "And, you consider that suspicious?"
"I definitely consider that suspicious," said Berthiume.
Once the fire was out, and daylight fell on the scene, reward notices were posted on the building in hopes that the person who set this fire would be caught.
"We believe that it did originate outside the building," said Assistant Chief David McDougall, of the Johnston Fire Department.
People who live there spent the morning cleaning up — and packing up — while workers prepared to board up a building that was no longer inhabitable.
While a Johnston police officer suffered smoke inhalation, no one else was hurt:
"He's nervous and he won't leave my side," said Michelle Bishaw, of her son. "But we made it out and that's all that matters. We are unbelievably fortunate. Actually my son was sleeping right there where the flames were practically all around his bedroom."
While the fire department continues to try to determine the cause of the fire, the Red Cross has stepped into help those who were displaced, finding them temporary shelter.
– Mark Curtis, Johnston, RI.