Search warrant leads to 7 arrests in catalytic converter thefts across New England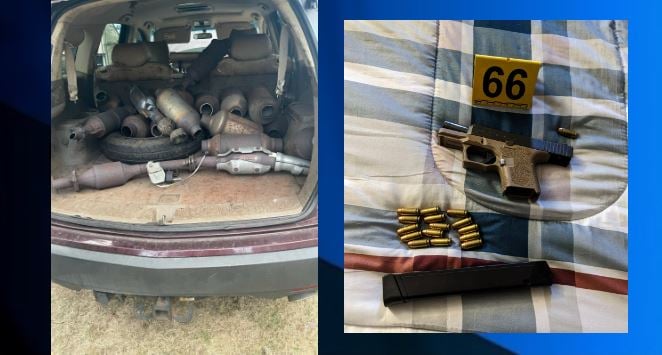 SPRINGFEILD, Mass. (WLNE) — Massachusetts State Police said seven people in connection to catalytic converter thefts throughout Massachusetts and New Hampshire over the last two years were arrested.
Police said all the defendants, who are charged federally, cut more than 470 catalytic converters worth approximately $2 million, from vehicles around the region.
Authorities said catalytic converters are targeted for theft due to the high value of metals inside, including palladium, platinum and rhodium.
Some of these precious metals are more valuable per-ounce than gold and their value has been increasing in recent years, with black-market prices being more than $1,000 each, according to police
The month-long, multi-jurisdiction investigation lead to the arrest of the following individuals:
Rafael Davila, aka "Robin Hood," 35, of Agawam Massachusetts
Jose Torres, aka, "Goldy Tech," 37, of Springfield Massachusetts
Carlos Fonseca, aka, "Charlito," 26, of Springfield Mass.
Zachary Marshall, 26, of Holyoke and Palmer Massachusetts
Santo Feliberty, 34, of Springfield Mass.
Alexander Oyoloa, aka "Dirty," 37, of Springfield Mass.
The men arrested were booked at the state police barracks in Springfield, Westfield, Millbury, Sturbridge, Charlton, Weston and Boston.
All are facing numerous federal charges including conspiracy to transport stolen property in interstate commerce, interstate transportation of stolen property, theft from and conspiracy to commit theft from a federally insured bank and money laundering.
Along with the arrests, police seized the following items from multiple locations around Massachusetts:
Seven firearms
Six cars
Seven motorcycles
Two jet skis
One boat
A Can-AM Spyder (a three wheeled motorcycle)
U.S. currency
Narcotics
More than 20 stolen catalytic converters
Officials said their investigation surrounded a maroon Acura that was involved in mutiple catalytic converter thefts. They said the Acura belonged to "Robin Hood," who planned and participated in all the thefts.
It is alleged that "Robin Hood" would steal the car parts with large groups including his brothers Nicholas Davila, Fonseca, Feliberty and Marshall.
Surveillance footage obtained by authorities further confirmed the identities of the people involved in the string of thefts.
Police said the suspects were skilled and able cut away the catalytic converter from a vehicle within a minute in most instances.
They said suspects utilized battery operated power-tools like reciprocating saws to make the jobs go quicker. They would then throw the converters into the maroon Acura and move on.
More than 70 police departments in Massachusetts, New Hampshire and Connecticut contributed to this investigation through the submission of their investigations of catalytic converter thefts in their areas.