Security high as Boston bomber faces victims in court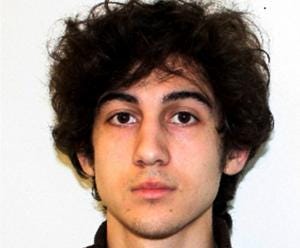 Melissa Toupin
Charges will be laid out against Dzhokhar Tsarnaev nearly three months after the marathon attacks and for the first time the boston bombing suspect will face the victims.
The 19-year-old and his late brother, Tamerlan, are accused of setting off two shrapnel–packed pressure–cooker bombs in Copley square, killing three spectators and injuring more than 260 others.
They are also suspected of murdering MIT police officer Sean Collier on the school's Cambridge campus and injuring transit officer Richard Donohue Jr. who was nearly killed in a gun battle, although, it's still unclear who shot him.
Dzhokhar, a former student at the University of Massachusetts Dartmouth, has been locked up at a federal prison since his capture April 19th in Watertown.
Today's hearing is set to be held at the same south Boston federal courthouse where mobster "Whitey" Bulger's trial is underway and, authorities told ABC news there will be a heavy police presence here.