Seekonk cemetery running out of room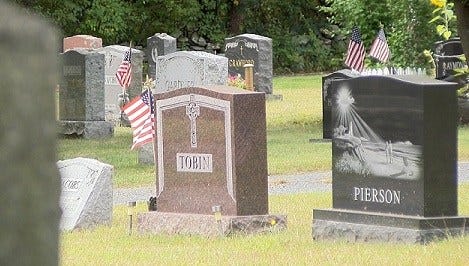 By: Melissa Randall
mrandall@abc6.com
@MRandallABC6
Generations of Seekonk residents are buried at the town cemetery on Newman Avenue. Ron Reeves always thought there'd be room for him one day, but just found out that may not be the case.
"I mean I'm 76, and I hope I've got 25 more years to live, but I guess if I want to stay in town permanently it may not be available," he said.
The graveyard is nearly full. Less than 2 dozen plots remain available, according to the Town Clerk.
"We need to face this problem and not kick it down the road like we've been doing in the past," said Dave Parker, Chairman of the Board of Selectman for Seekonk.
The board of selectman like this spot for several reasons. One, the town already owns the property. Two, the land is nice and flat, and three, with more than five acres there's plenty of room to accommodate for the next 50 years.
State law says the town must provide a place of eternal rest for its residents. The spot they're looking at, a lot on Fall River Avenue near the transfer station is a problem for some who live nearby.
Helena Jorge lives on Carter's Way, a cul–de–sac that abuts the land. The mother of two is opposed to having a graveyard next door.
"Property values may go down and it's a neighborhood with a lot of children and I think it would be little horrifying, a little scary, having a cemetery for all the young children on the street," she said.
Parker says he hears Jorge's concerns, which are echoed by several neighbors. He says nothing is set in stone, and he's even looking into a possible loop–hole in the law.
"What we want to know does that place have to in the town of Seekonk or could we work out something with another town, and that would satisfy the law?" he asked.
In addition to the Fall River Ave lot selectman are considering 4 other sites, each which has its own positives and negatives. A special "workshop" meeting will be held next Wednesday, September 29th, to discuss them. It will be held at 7 pm at the Town Hall. The public is invited to attend.
© WLNE-TV 2015