Selsky Homers Twice To Lift PawSox To Fourth Straight Win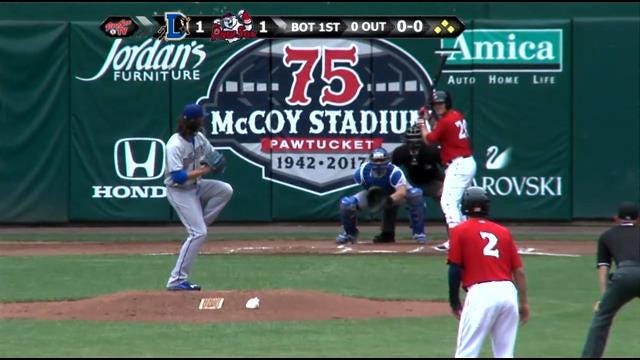 Pawtucket Red Sox Press Release
PAWTUCKET, R.I. — Red-hot Steve Selsky belted a pair of home runs, including a grand slam, and propelled the Pawtucket Red Sox to a 7-1 win over the Durham Bulls on Sunday afternoon at McCoy Stadium.
"Terrific today, he was outstanding," Pawtucket manager Kevin Boles said of Selsky. "He impacted the ball for us, five total RBI today, made a difference. He definitely impacted the game. I thought he was terrific."
Selsky's slam highlighted a five-run first inning for the PawSox (20-24), who scored all seven runs in the first three frames and coasted past the Bulls (29-18). With wins in each of the first three games of the four-game series, Pawtucket has now matched a season-high winning streak at four games.
In addition to his first-inning grand slam, Selsky (2-for-4) hit a solo home run to lead off the third. The 27-year old, who made the Red Sox Opening Day roster, notched his first multi-homer game since June 2013 and has gone deep four times in his last four games. Selsky is the second Pawtucket player this season to hit two home runs in a game, joining outfielder Aneury Tavarez.
"He's on time. There's times where velocity was beating him a little bit, probably a week ago," Boles said. "But it looks like his lower half is getting established. He's on time. He's got good coverage. I don't think he's trying to cover all parts of the zone. He's getting deep into counts at times. He's done a little bit of everything.
"He's just a reliable player all the way around. Not only to do this offensively, but now he's playing center field with Castillo having been out."
PawSox starter Henry Owens (W, 4-3) fired six innings of one-run ball, allowing four hits and four walks while striking out seven on a season-high 110 pitches. Over his last two outings, the 6-foot-6 southpaw has tallied a 2.25 ERA (three earned runs in 12 innings).
"Henry was pretty good today, did run into some trouble," Boles said. "Had some command issues at times, but was able to right the ship. I thought we burned through his pitch count a little bit defensively, had some miscues behind him on balls we could've taken care of. But, again, from where he was to where he is now, we're starting to see things progress. He should be feeling a lot better about his last two outings and how things are going.
"I just like the mix too. I thought he had a reliable changeup today, threw a couple good cutters to left-handed hitters. He's had some secondary pitches today that helped him out."
Pawtucket reliever Edgar Olmos (S, 1) added a trio of scoreless stanzas with three four strikeouts.
In his return to the lineup after missing the last three games with a bruised calf, designated hitter Rusney Castillo went 3-for-4 with his team-leading seventh home run of the season.
Durham starter Brent Honeywell (L, 3-5), a top-30 overall prospect, yielded seven runs (all earned) on eight hits across three rocky innings.
For the second straight game, the Bulls broke the scoring seal in the first — this time on an RBI single from cleanup man Mike McKenry.
The PawSox promptly tied the game, 1-1, in the home half of the first with four consecutive singles to begin the frame — the fourth of which, from shortstop Ryan Court, scored Castillo. Selsky then clubbed a grand slam to left, making it 5-1.
Castillo led off the bottom of the second by drilling an opposite-field home run over the right-field wall.
Selsky then started the third inning with his second home run of the game — this an opposite-field solo shot to right-center, widening the gap to 7-1.
The PawSox conclude their four-game series against Durham on Monday at 1:35 p.m. at McCoy Stadium. PawSox right-hander Shawn Haviland (2-4, 4.01) is scheduled to start opposite Bulls righty Jose De Leon (0-1, 9.00). Radio coverage on WHJJ (920 AM) and throughout the PawSox Radio Network begins with the PawSox Pre-Game Show at 1:05 p.m.
Good seats are available, and fans can visit the McCoy Stadium box office, which is open Monday-Friday from 10 a.m. through 5 p.m., and during all home games. Fans can also call (401) 724-7300 or log on to PawSox.com for tickets.