Selsky Swings PawSox Past Chiefs In Rain-Shortened Affair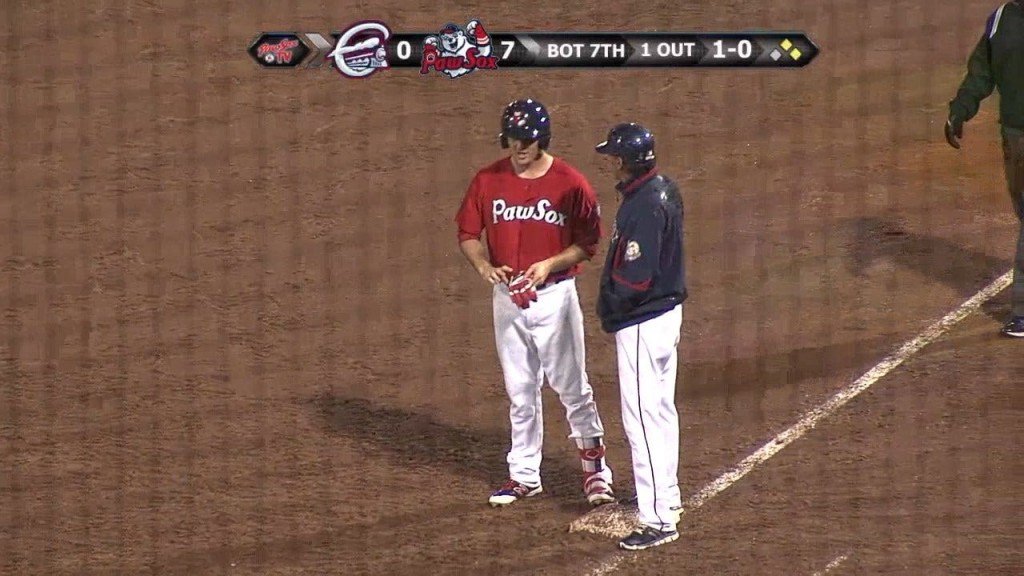 Pawtucket Red Sox Press Release
PAWTUCKET, R.I. — A pair of rain delays were the only roadblocks that slowed Kyle Kendrick on Monday night, as the Pawtucket Red Sox starter powered the PawSox to a 7-0 rain-shortened, seven-inning win over the Syracuse Chiefs at McCoy Stadium.
Kendrick (W, 2-3) delivered seven shutout innings of four-hit ball, as the PawSox (25-27) grabbed the series opener from the Chiefs (17-35). The veteran right-hander only walked one and fanned two in his seven stanzas on a mere 71 pitches. The performance marked Kendrick's second seven-inning complete game of the season.
Pawtucket right fielder Steve Selsky, meanwhile, went 3-for-4 with a home run and four RBI out of the No. 3 spot in the order. Selsky has now racked up 16 RBI, thanks in large part to five long balls, in his last 11 games. Left fielder Bryce Brentz (2-for-4) collected his eighth multi-hit game of the season and is now 17-for-44 (.386) with 15 RBI over his last 13 games since utilizing a toe-tap in his stride.
Syracuse starter Austin Voth (L, 1-7) surrendered five runs on nine hits and a walk in six innings.
Following a 24-minute rain delay before the first pitch, the PawSox pushed across three runs in the first inning. Shortstop Ryan Court dropped a well-placed bunt single down the third-base line. Then, with runners at first and second, designated hitter Allen Craig supplied an RBI single to left field, where Syracuse's Brandon Snyder made an ill-advised throw to the plate that allowed Brentz to advance to third and Craig to second. Moments later, PawSox catcher Blake Swihart made the Chiefs pay with a two-run single to center.
In the fifth, Selsky unloaded a towering two-run home run to left field to make it 5-0.
The pace of the game slowed considerably in the seventh, as Chiefs reliever Austin Adams walked the first two batters he faced and hit the third. Two batters later, against lefty Matt Grace, Selsky ripped a two-run single up the middle to extend the advantage to 7-0.
Rain fell swiftly throughout the seventh inning, and the game entered another rain delay following the bottom of the frame and was eventually called roughly 35 minutes later.
The PawSox continue their series against the Syracuse Chiefs on Tuesday at 7:05 p.m. at McCoy Stadium. PawSox right-hander Héctor Velázquez (4-1, 1.50) is scheduled to oppose Chiefs righty Greg Ross (2-3, 6.39). Radio coverage on WHJJ (920 AM) and throughout the PawSox Radio Network begins with the PawSox Pre-Game Show at 6:35 p.m.
The seven-game homestand runs through Sunday. Good seats are available, and fans can visit the McCoy Stadium box office, which is open Monday-Friday from 10 a.m. through 5 p.m., and during all home games. Fans can also call (401) 724-7300 or log on to PawSox.com for tickets.