Senate confirms Raimondo as Commerce Secretary, McKee sworn in as 76th Governor of RI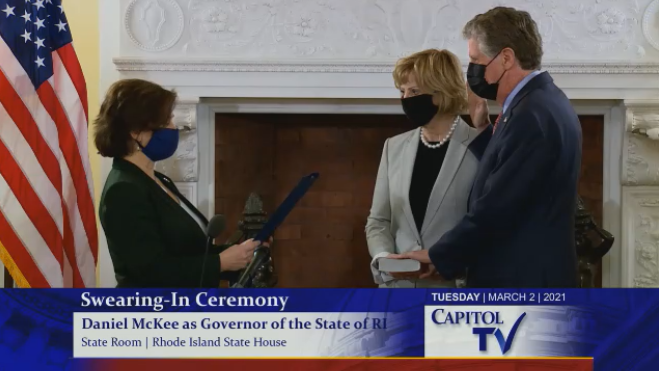 PROVIDENCE, R.I. (WLNE) – Dan McKee has officially been sworn in as the 76th Governor of Rhode Island.
Governor McKee was sworn in during a private ceremony inside the State Room at the Rhode Island State House on Tuesday evening. McKee was joined by his wife, Susan, and their two children.
"I am honored and humbled by the opportunity to serve the people of Rhode Island at this crucial time for our state," said Governor McKee. "I will work hard, day in and day out, on behalf of Rhode Islanders in all 39 cities and towns to ensure we come out of this pandemic stronger than we went in."
Secretary of State Nellie Gorbea conducted the oath of office using the McKee family Bible.
A public inauguration will be held on Sunday, March 7 at noon, on the State House steps.
Raimondo was confirmed Tuesday afternoon as U.S. Secretary of Commerce after the Senate voted 84-15. President Joe Biden selected Raimondo to lead the department in January.
The Commerce Department is in charge of many agencies including the National Weather Service, the U.S. Census Bureau and the National Oceanic and Atmospheric Administration. Raimondo would oversee more than 40,000 employees.
Raimondo submitted her official letter of resignation just after 6 p.m. on Tuesday.
McKee spent his final hours as lieutenant governor getting his COVID-19 vaccine at the Dunk and addressed reporters following his shot.
"We are ready to help the people in the state of Rhode Island through this pandemic, but also beyond that, in terms of restoring our economy, and as we've said over and over again, get our students back into the schools," McKee said. "We're certainly ready, the people of Rhode Island should feel comfortable that day one we'll have people in every department running the departments and also in our office."
The new Governor announced his staff Tuesday evening.
As for who will replace him as lieutenant governor, dozens of people have thrown their hat into the ring. McKee said his team is interviewing applicants this weekend.
"There's many people there that are capable of serving as lieutenant governor, we also have many people who've applied that want to do good things for the state of Rhode Island, and we want to have that opportunity so they can share that information, what their vision is for the state so that we can use them as resources for different boards, different appointments that could be coming up over the next couple years."
© WLNE-TV 2021