Senate President Dominick Ruggerio reflects on 2019 ahead of upcoming session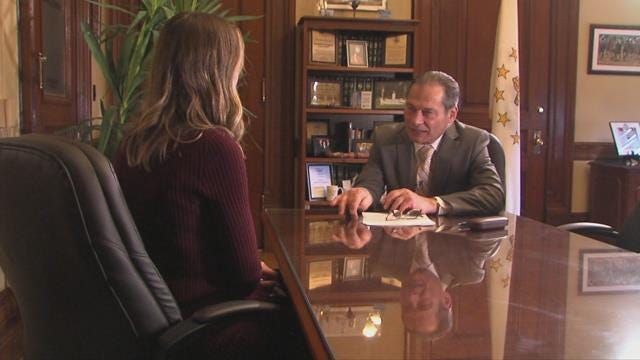 By: Ellie Romano
Email: ERomano@ABC6.com
Twitter: ERomano@ABC6.com
PROVIDENCE, R.I. (WLNE) – State lawmakers head back to Smith Hill in less than two weeks for a new session in the General Assembly.
Before the session gets underway, Senate President Dominick Ruggerio is looking back at 2019 and reflecting on what legislation he wants to push forward in the new year.
He said throughout 2019, education was a standout issue for lawmakers.
"The test scores that came in, we were very disappointed in those scores," said Ruggerio.
He and his fellow lawmakers responded to the issue by rolling out a standard curriculum so all students will be on the same page.
"Regardless of where any student in Rhode Island moves, if he moves to another community in Rhode Island, it will be the same curriculum standard for everyone," said Ruggerio.
He hopes a new standard curriculum will not only help across the state but also in the sinking Providence Schools.
Back in June, Johns Hopkins released a scathing report on the state of Providence Schools which then prompted the state to take over the district.
Ruggerio said he is a fan of the work the new state Education Commissioner, Angelica Infante-Green, has done to repair the district.
"That lady is from New York and I'm sure she's seen a lot of things in New York that she's seeing here," said Ruggerio. "I have a lot of confidence in her because her heart is really in the right place."
In 2019, we also saw a ban on flavored vaping products. Ruggerio said he supported the governor's decision on this.
The state's medical marijuana industry is scheduled to expand in 2020, however, Ruggerio does not want cannabis to become recreational.
"I'm worried about workplace safety. I'm worried about edibles, and children getting their hands on edibles," he said.
While 2019 was a productive year for lawmakers, there were several bills that were killed that Ruggerio would like to edit and revive in the coming session.
"We have the straw bill as we call it. The plastic straw bill that Leader McCaffrey introduced," said Ruggerio.
That bill would require a restaurant to wait for a customer to request a plastic straw in order to give one out.
"We'll be back introducing that," Ruggerio said.
He also said the General Assembly needs to tackle the state's financial deficit in 2020.
"We have a $200 million budget deficit that we're going to have to address," said Ruggerio. "We're going to have to find some money."
He would also like to see changes made to the state's sports betting app to make it easier for players to schedule their bets.
©WLNE-TV/ ABC6 2019