Senate rolls out 25 bills to improve the RI economy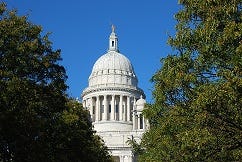 Dee DeQuattro
Senate leadership and several other senators unrolled a series of 25 bills aimed at making Rhode Island more business friendly.
The bills were part of the "moving the Needle Forward" legislative package developed from a joint report of the Senate and the Rhode island Public Expenditure Council (RIPEC).
The proposals include reforming the Rhode Island Economic Development Corporation, improving workforce development, reducing business costs, cutting "red tape" and requiring a long term vision for Rhode Island Economic development.
"The economy is the Senate's priority, and will remain the Senate's focus this session," said Senate President Teresa Paiva Weed (D Newport, Jamestown). "Successfully moving the needle and improving the business climate will require all of us in the public and private sectors working together towards a shared objective. This cohesive package of bills is aimed at making Rhode Island more attractive to entrepreneurs, improving our image within our state and outside our borders, and helping companies that are here to grow and create jobs."