Senator Reed vows to keep fighting to make college affordable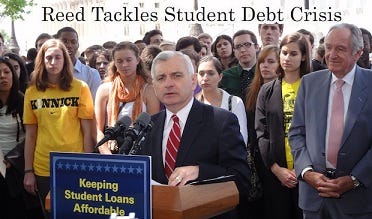 By Alexandra Siegel
Today, the U.S. Senate failed to pass a bill by RI Senator
Jack Reed, which was created to reverse the recent doubling of student loan rates
under the federal Stafford student loan
program.
Earlier in the month
on July 1st, the interest rate on federally subsidized Stafford loans jumped from 3.4% to 6.8%, a change that is
affecting 7 million students nationally, including 47,000 Rhode Islanders.
The bill, known as
the Keep Student Loans Affordable Act, failed due to a Republican filibuster. The
Senate ended the debate on a bill to reverse the doubling by acting on a
procedural motion.The bill failed with 51 in favor and 49 opposed, a mere 9
votes off from the 60 votes needed in order for it to pass.
"Helping students is the right thing to do and a smart way
to strengthen our economy," said Senator Reed in an issued statement. "I will
continue to work hard to reverse this senseless rate hike. We need a
comprehensive overhaul to make our financial aid system more effective,
affordable, and sustainable. "
Graphic courtesy of www.reed.senate.gov/