Senator Whitehouse to serve as a pallbearer for Senator McCain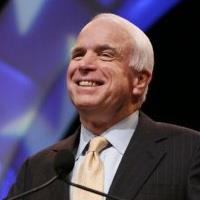 By: News Staff
Email: news@abc6.com
Twitter: @ABC6
PROVIDENCE, R.I. (WLNE) – Senator Whitehouse will serve as a pallbearer for Senator John McCain at the ceremony in Washington on Saturday.
Earlier today on the floor of the senate, Senator Whitehouse gave a moving tribute to his friend and former collegue.
"I will always treasure our friendship, but what i will revere is the way John McCain pointed true north at what was good and just and decent."
He also responded to the honor of serving as a pallbearer by saying, "
"It is a treasured gift to be asked to honor this wonderful man.  His loss is a loss to our whole country."Other pallbearers for Senator McCain include actor Warren Beatty, former Vice President Joe Biden, former New York City Mayor Michael Bloomberg and founder and CEO of Fed Ex Fred smith.
© WLNE-TV / ABC6