Serious crashes in Providence and Cranston, both allegedly caused by impaired drivers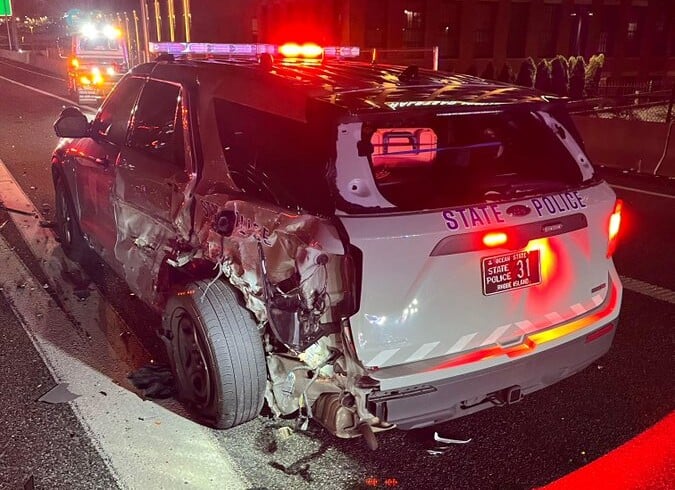 PROVIDENCE, R.I. (WLNE) — Rhode Island State Police said two crashes were caused by impaired drivers over the weekend, resulting in a head-on collision, hospitalizations, and a damaged police cruiser.
Just after 7 p.m. on Saturday, a 2017 Kia Optima drove onto Route 37 west traveling the wrong way from Natick Avenue in Cranston.
The driver, 56-year-old Jay Petit of Oakdale, Connecticut, allegedly kept driving the wrong way for nearly half a mile, passing other cars that were driving the correct way.
Officials said Petit then merged onto the exit-ramp from Route 295 north to Route 37 west, still driving the wrong way.
Petit drove about 800 more feet on the exit-ramp until he struck a 2017 Honda Accord head-on.
The driver of the Honda was taken to Rhode Island Hospital.
Police said Petit fled the scene on foot.
Once he was found, he was brought to Roger Williams Hospital and charged with the following:
Driving to endanger resulting in personal injury
Driving while under the influence of intoxicating liquor or drugs resulting in serious bodily injury
Duty to stop in accident resulting in injury
Obstructing officer in execution of duty
Refusal to submit to a chemical test
On Sunday, just after 12 a.m., a trooper was outside of his cruiser clearing debris from the road.
The cruiser was parked about 500 feet north of Route 6 in Providence.
A white Chevrolet Silverado was allegedly traveling at a high speed and struck the rear of the police cruiser.
The driver, 40-year-old Curt Litaway of Fall River, was arrested for the following:
Driving under the influence of intoxicating liquor and/or drugs
Possession of schedule I-V controlled substance
Refusal to submit to breathalyzer
Litaway also was given numerous traffic citations.