Former School committee woman to appeal case to Superior Court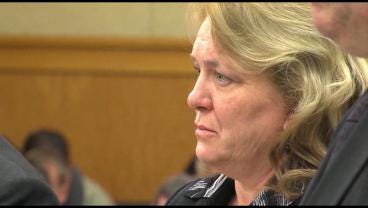 Dee DeQuattro
Terri Serra, a former Chariho School Committee woman who was found guilty of violating the state's social host law last week in District court wants a new trial in Superior Court.
Serra is accused of violating the social host law after teenagers reported drinking at her Richmond residence prior to getting in a serious car accident in October of 2011.
On Wednesday Serra's Attorney, Bob Mann, filed a notice of appeal. Since the case was heard in Kent County District Court, the case will now be appealed to Superior Court.
During the proceedings in District Court, Mann argued that Serra could not be found guilty of violating the social host law because the law itself is unconstitutional. The judge ultimately found her guilty on the charge.
Serra faces a $1,000 fine and a suspended prison sentence.
Serra was found not guilty of a second charge, failure to render aid in Nov. It was alleged she drove by the scene of the accident and did not stop to assist the teenagers.