Severe Thunderstorm Watch Has Expired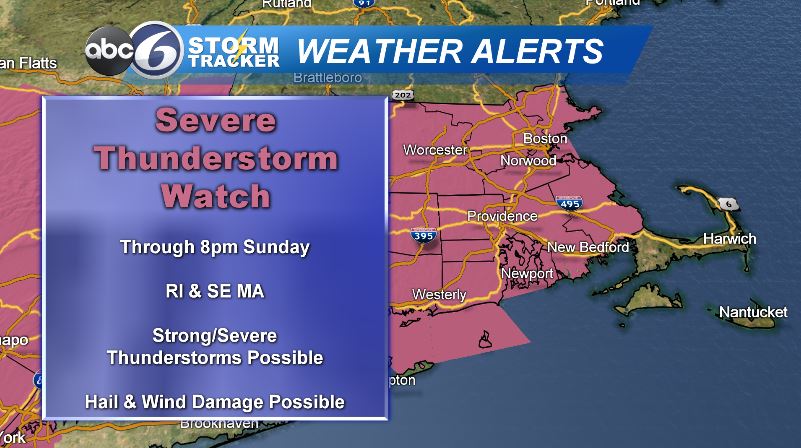 This post is formatted with the most recent updates at the top, followed by older updates. Stay here for updates throughout the rest of your Sunday.
SUNDAY 8:00PM UPDATE: The Severe Thunderstorm Watch has expired. Further severe weather is unlikely as this point. Visit abc6.com/weather for the latest 7 day forecast.
SUNDAY 7:39PM UPDATE: It looks like most of the big storms are done for our area. Still very active just west of Worcester, but I don't see a lot more happening for us at this point. The Severe Thunderstorm Watch is set to expire at 8pm. Will update if anything changes.
SUNDAY 7:16PM UPDATE: So far at the station, heavy rain, plenty of lightning, and loud thunder.
Others have dealt with significant hail and ongoing flooding, mostly north and northwest of Providence. Still a decent thunderstorm over Providence now, stretching back toward NW RI, and into East Providence along with Pawtucket, Cumberland, Woonsocket, Lincoln, Attleboro, North Attleborough, Seekonk, Rehoboth, Swansea, and more.
SUNDAY 6:58PM UPDATE: Heavy thunderstorm has arrived here in Providence. Severe Thunderstorm Warning remains in place north of Providence. Severe Thunderstorm Watch remains in place for the entire area for potential further storm development.
SUNDAY 6:38PM UPDATE: A nearly stationary thunderstorm has prompted flooding concerns in NW RI. A Flash Flood Warning has been issued there.
SUNDAY 6:06PM UPDATE: New Severe Thunderstorm Warning issued for northern RI into MA. Storms are moving over the state line into northern RI at this point, capable of producing hail and damaging winds.
SUNDAY 5:58PM UPDATE: With that nearly stationary thunderstorm raging just over the state line, flooding is now a concern. Flash Flood Warning is in place for the red boxed area in the graphic, including Norwood, Sharon, Mansfield, Medway, Wrentham, Franklin, Blackstone, Uxbridge, Northbridge, Douglas, Sutton, Easton, among others. Avoid traveling there if possible.
SUNDAY 5:51PM UPDATE: This storm has barely moved. 90% of it is over the state line in MA, but a tiny portion is over Woonsocket and Cumberland. I can see the dark clouds looking north from PVD. TONS of lightning with this storm, plus likely flooding rains, potentially hail, and damaging winds.
SUNDAY 5:34PM UPDATE: North of the RI/MA state line: raging, intense thunderstorm.
South of the RI/MA state line: hardly anything yet. The storm literally ends at the state line.
SUNDAY 5:16PM UPDATE: Impressive sized hail detected by radar along the CT/MA line. Outside our viewing area? Yes. But, it's an indication of what some of these storms are capable of producing, if we should happen to end up with any of the stronger ones over us.
SUNDAY 5:09PM UPDATE: A second Severe Thunderstorm Warning has been issued that includes a little more of northern RI for the cell just south of Worcester. Be on the lookout for heavy rain, hail, damaging winds, and lightning.
SUNDAY 5:00PM UPDATE: A *Severe Thunderstorm WARNING* has now been issued to include far northeastern Rhode Island as well as northern Bristol County in MA. Storm could produce hail and damaging winds. Get indoors. Some towns include: Pawtucket, Taunton, Cumberland, North Attleborough, Norwood, Milford, Attleboro, Walpole, Mansfield, Easton.
SUNDAY 4:52PM UPDATE: Again, a little outside our coverage area, but very close… Impressive sized hail in a thunderstorm, detected by radar near Milford, Medway, and Bellingham. Another impressive looking hail pickup near Sharon and Canton.
SUNDAY 4:45PM UPDATE: It's a little outside our coverage area, but certainly close by. There's a real beast of a thunderstorm over Norwood right now, likely producing heavy rain, hail, strong winds, and frequent lightning. That area is under a Severe Thunderstorm WARNING. Keep this in mind if you're getting ready to drive up 95 north.
SUNDAY 4:36PM UPDATE: It looks like the first up to see a storm in our area might be NW RI. The newly developed storm in NE CT is moving east, but does *NOT* currently have any warnings attached to it. (In other words, it's a thunderstorm, but not strong enough for a warning at this point…)
SUNDAY 4:02PM UPDATE: No storms yet for our coverage area (RI and SE MA), but strong to severe thunderstorms are firing up in upstate NY, western CT, western MA, and the Worcester/Boston areas. We'll continue to watch the radar and alert you to any potential incoming severe weather.
ORIGINAL POST:
A Severe Thunderstorm Watch has been issued for Sunday afternoon and evening. Scattered thunderstorms are expected to develop, and some of those could be severe. Severe storms have the capability to produce hail and damaging winds.
As of 3pm, most of the activity has been north of our area, but keep an eye to the sky for the rest of your Sunday. This post will be updated as needed until the severe thunderstorm threat has passed. Once the threat has passed, this post will be replaced with the 7 day forecast.
Tim Studebaker, StormTracker Meteorologist
Facebook: @TStudebakerABC6
Twitter: @TStudebakerABC6
Email: tstudebaker@abc6.com