Shipwrecked: RI waters home to many sunken ships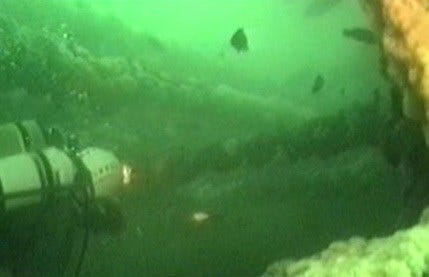 By Liz Tufts
ltufts@abc6.com
Rhode Island is usually overlooked in the history of the American Revolutionary War, but our state has the largest number of shipwrecks from that time than any other.
The state is known for its gorgeous coastline, but deep down in the water, are hundreds–even thousands of stories of our nation's history.
"More than two thousand have been lost in the local area. How many are still here is the question… and also how may have been found," says Dr. Kathy Abbass of the Rhode Island Archeology Project.
Dr. Abbass is the Executive Director. She and a team of scientists, divers, and volunteers, have been mapping shipwrecks all across Rhode Island.
"Rhode Island has so many shipwrecks because it's a fairly treacherous coast and because it was highly trafficked. The shipping lanes that went by Rhode Island and into Narragansett Bay were full of ships," says Archeologist Charlotte Taylor.
Some of the most significant shipwrecks date back to the American Revolutionary War, when many American and British vessels were lost in the battle for Rhode Island. The British destroyed more than 150 American ships in the harbors of Bristol, Warren, and Narragansett Bay. 13 of those ships sank in Newport Harbor.
"The one we've looked at in Newport for many years is the search for Captain Cook's Endeavor," says Dr. Abbass.
18th Century British Explorer, Captain James Cook, explored more of the world than any other man who came before him, and many researchers now believe his most famous vessel is somewhere in Rhode Island's waters.
"Australia thinks The Endeavor is their founding vessel and Cook is their icon, so the Australians are very interested in what we are doing in Newport to try and find that particular vessel," explains Dr. Abbass.
Pisces of nine of the 13 vessels have been found.
"We found little things, pencil cases, that give us a glimpse of what it was like to be on a revolutionary war ship," says Taylor.
While the search continues for the endeavor, Abbass and Taylor just hope others don't find it before they do.
"The problem with people taking pieces of a shipwreck is that they are taking away pieces of the story and that story becomes scattered," say Abboss.
Abboss and her crew were out searching the waters this simmer for The Endeavor, and while they haven't found anything yet, they are still pretty confident its somewhere out there.
© WLNE-TV 2015