Shorthanded Celtics Continue To Roll, Run Past Raptors Saturday Night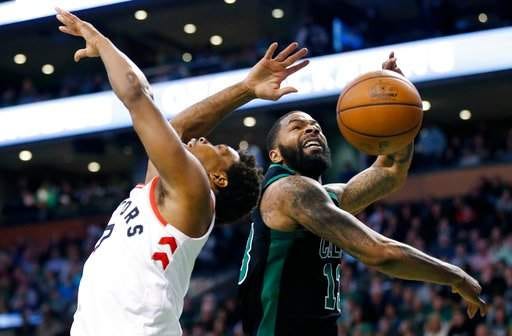 By KYLE HIGHTOWER
AP Sports Writer
BOSTON (AP) – Marcus Morris had 25 points and nine rebounds before getting ejected in the closing seconds, and the Boston Celtics rallied to beat the Eastern Conference-leading Toronto Raptors 110-99 on Saturday night.
Jayson Tatum added 24 points, six rebounds and four assists as Boston posted its sixth straight win and moved within two games of Toronto for the top seed in the East.
Both teams have six games remaining. They meet for the final time on Wednesday in Toronto.
Things got heated in the final seconds when four technical fouls were assessed between the teams. Morris was hit with two and was tossed. Toronto's C.J. Miles and Serge Ibaka received one each.
For Morris, it was his fourth straight game with at least 20 points.
DeMar DeRozan led Toronto with 32 points, seven rebounds and seven assists. Ibaka added 15 points and 10 rebounds.
After giving up 24 points in the paint in the first half, the Celtics mixed in some zone defensively in the second half to try to limit the Raptors' opportunities.
It was effective late, and helped ignite a 10-0 Celtics run that gave them a 104-94 lead with 3:27 left on a layup by Tatum.
There were 15 ties and 20 lead changes.
TIP-INS
Raptors: DeRozan extended his franchise record for 30-point games to 92. … Toronto's franchise-record streak of hitting at least 10 3-pointers came to an end at 17 games.
Celtics: Aron Baynes' two 3-pointers were a career high. He entered the night 1 for 19 from beyond the arc. The one he made previously was in Boston on Nov. 30, 2014. … Morris (right ankle sprain) and Al Horford (left ankle sprain) both returned after missing a game.
MAKING PROGRESS
Celtics coach Brad Stevens said he got his first peek at Kyrie Irving since he had surgery last week to remove a tension wire in his left knee.
"Saw him (Friday), spent a lot of time with him. His spirits are good," Stevens said. "Bending (and) extending his knee on a training table. No on-court videos. No 360 dunks. Just extending his knee on a training table."
Irving is out at least for the remainder of the regular season. The team said recovery would take three to six weeks. The longer estimate for his return would mean he would not be back until the second round of the playoffs.
STAYING HEALTHY
Playing the Celtics highlighted the Raptors' health. Toronto had its entire roster available, which coach Dwayne Casey said was "huge" for his team's prospects going forward.
"That was one of the things coming into this year _ to make sure we cut back some minutes," Casey said. "DeMar and Kyle (Lowry), keep their minutes back to make sure they didn't get those high-usage rates on their body. Knock on wood, it's not over yet."
UP NEXT
Raptors: At Cleveland on Tuesday.
Celtics: At Milwaukee Tuesday.
___
More NBA basketball: https://apnews.com/tag/NBAbasketball
AP-WF-04-01-18 0218GMT