Showdown vote for Fairhaven Board of Health race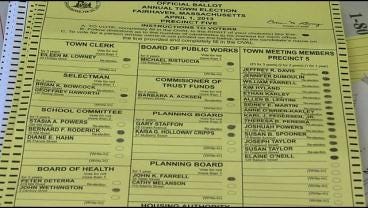 by ABC6 Chief Political Reporter Mark Curtis
A rematch vote for Fairhaven's
Board of Health is today, September 9th.
There have been several angry Board of Health meetings in Fairhaven, following a
disputed April Fools Day election that ended in a tie.
That led the way to today's rematch between incumbent Peter
DeTerra and challenger John Wethington.
The central issue – then and now – Fairhaven's controversial wind turbines
located near a residential neighborhood.
Some say the turbines make them ill; other say they've had
no problems.
Lisa Plante of Fairhaven,
who opposes the turbines, said, "I have had problems with ringing in my
ears. I don't know. When I'm far away from the home, I don't get it. I've had
headaches."
Linda Therrien of Fairhaven,
who supports the turbines said, "I've had absolutely no issues whatsoever.
With me, my husband, my children, my dogs. Nobody's, none of us affected."
Last April John Wethington was declared the winner and was
sworn in.
Hours later the town clerk said she found more ballots, and
Peter DeTerra was called the winner by one vote.
A judge – calling the vote counting a "public
disgrace" tossed out a disputed ballot, which left the race in a tie.
With the election up in the air…the fate of the wind
turbines hangs in the balance.
Polls in Fairhaven
are open until 8 p.m.