Showers/Thunderstorms After Midnight
Humid Through Saturday, Thunderstorms At Times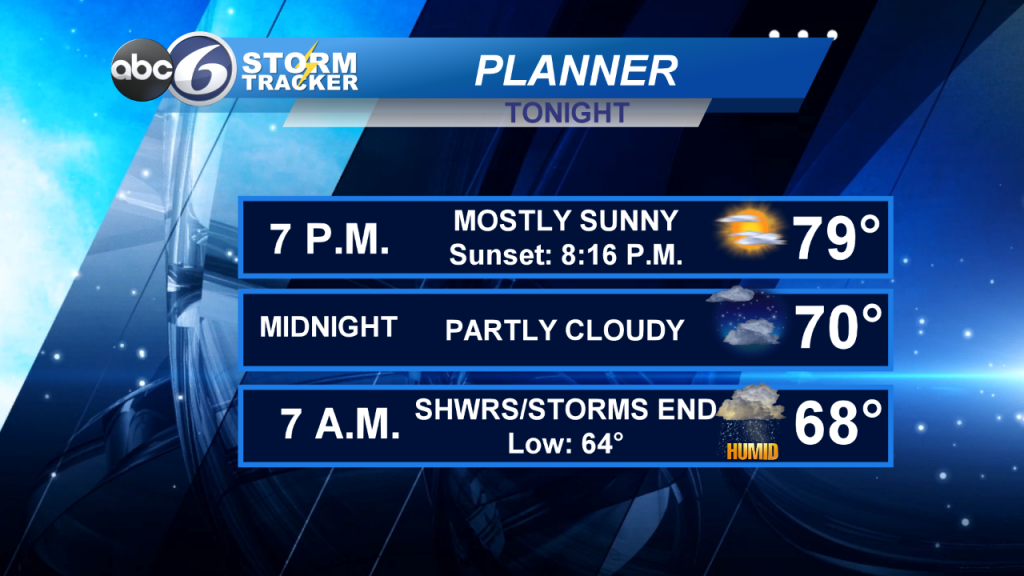 After a warm and sunny day (Low humidity), clouds increase tonight. A round of showers and thunderstorms after midnight. Increasing humidity. Temps in the 60s.
Friday, any overnight rainfall will end by 5/6 A.M., therefore the day is mainly dry. Partly sunny, humid and warm. Around 80°. A slight chance of an late-day thunderstorm, but the higher chance for storms will happen Friday night. heavy rainfall expected associated with overnight thunderstorms. Humid and mild. Mid to upper 60s.
Saturday, remaining humid and warm with the chance of showers and thunderstorms continuing for the day. Not an all day rain event, but times of showers and thunderstorms through 5 P.M. Temps around 80°. Saturday night, partly cloudy. Not as humid. Low 60s.
Sunday, a mix of sun and clouds. A cooler and less humid day. Low 70s. Sunday night, partly cloudy. Pleasant. Mid to upper 50s.
Monday through Wednesday, sunny and nice. 70s during the day, 50s to near 60° at night.
A chance of showers Thursday…Mid 70s.
ABC6 Stormtracker, Jeff Desnoyers
Email: jdesnoyers@abc6.com