Sick toddler heartbroken over lost "Monkey"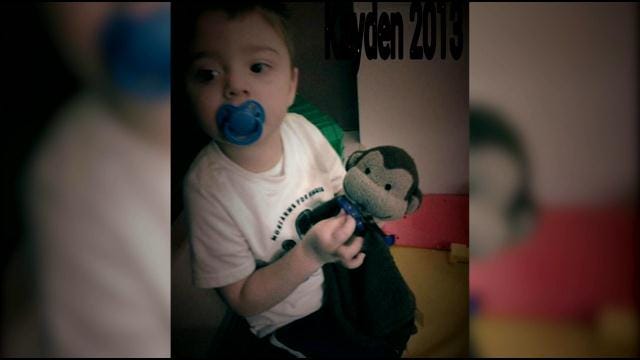 Andrea Medeiros
A sick boy lost his best friend. The special blanket he's clung to through eleven surgeries is gone. His family has been desperately searching for the lost monkey blanket hoping someone can help find it.
"Monkey" is what two and a half year old Kayden Watson from Cumberland calls his best friend, a small blanket with a monkey head and two tiny arms he lost on Saturday.
Kayden can't sleep without his "monkey". Born with his intestines on the outside of his body, he clings to the blanket during the 12 hours he spends connected to an IV every day.
"He can't do things like a normal kid because he's got his bags hanging," said his mom Jennifer Harkin, "He's constantly hospitalized for different infections."
The toddler already had his small intestines, a piece of his large intestine, and part of his colon removed. He has one more surgery left. His parents hope he won't have to do it without "monkey."
"It's been through eleven surgeries. It's actually been in the O.R.'s," said Harkin.
"His surgeon literally lets him leave it at the foot of the operating table," said dad Dan Watson.
The Dairy Queen in North Attleboro is the last place the family saw that monkey blanket, stopping there for some quick food after visiting family. Workers at the restaurant have combed through dumpsters and the manager is now offering a 20 dollar gift card to anyone who brings "monkey" back.
There's also been an outpouring of support on Facebook for Kayden, people offering to send him a new "monkey".
"We tried replacing it," said Harkin. My aunt bought him a new one. He just wants his "monkey."
His mom says he may have thrown it out of the car on their way home.