Sink hole causing problems in Wayland Square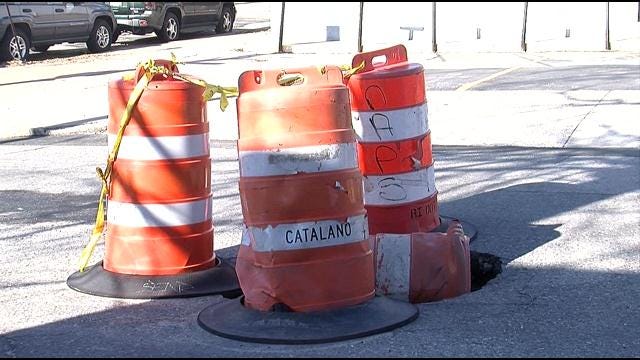 By: Melissa Randall
In the middle of Wayland Avenue in Providence is a sink hole so deep a grown man can stand in it. In fact Michael Caromile, a hair dresser who works in the neighborhood, took a photo of him doing just that.
"It's appalling. It should be taken care of," said Caromile.
That picture was taken last month. Caromile says he sent it to the mayor's office, but never heard back.
The sink hole, which is located between Pitman and Seekonk Streets, originally popped up on February 13th following a weekend snow storm. Witnesses say, and photos show, that a Providence police cruiser was involved.
The Public Works Director for Providence says that sink holes happen when there is a sewer pipe failure. Under a city ordinance those pipes are supposed to be maintained by the property owner.
"We've gotten our place scoped. The place next door has gotten their place scoped. Everything is clear," said Elizabeth Louis who works at Wayland Bakery which is located directly across from the sink hole.
Whatever caused it to open up the fact is that the hole remains un repaired nearly three months later. Drivers in the busy area are left to navigate around the gaping hole which has been cautioned off with orange barrels.
"There's a lot of up and down on this street here. During the work days its difficult because it is a very narrow strip, and it's a small section of street here with a blind corner," said Caromile.
Louis says a handful of her customers, mostly driving SUV's, have backed out of the lot and fallen into the hole. She feels ignored and has a strong message for city leaders.
"They need to take care of the matter and to do it right away because someone will get hurt," she said.
The city tells ABC6 News they are working to get a video camera into the sewer pipes in order to identify the problem so that it doesn't happen again. No timeline for when that will happen was immediately given.
© WLNE-TV 2014
Follow me on Twitter @MelissaARandall