Sister Anne Keefe funeral mass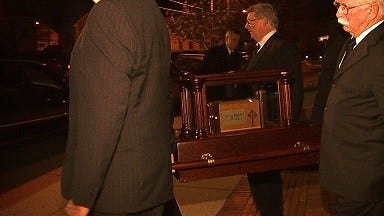 By Dana Griffin
@danagriffinABC6
PROVIDENCE, RI- Longtime Rhode Island community activist, Sister Ann Keefe was celebrated at a funeral mass in Providence.
Carrying the ashes of their sister into St. Michael the Archangel Church, Sister Ann Keefe and her family were greeted by 12–hundred friends and remembered fondly.
Brother, Michael Keefe said, "We just hope the community remembers her and remembers what she stood for, what she worked for and continues her work."
She pioneered the vision of non–violence after Providence reeled from a spike in violent deaths in the late 90's.
That mission began in 2001 at the Institute for the Study and Practice of Non–Violence.
Executive Director, Teny Gross said, "If you can combine two things in life- we all want to be happy and enjoy and make contributions that are meaningful- with Sister Ann, you could do that any day."
But ISPN wasn't Sister Ann's only baby. She was heavily involved in organizations like Sophia Academy, City Arts for Youth, and Aids Care Ocean State.
"You know, when you meet somebody like Sister Ann you can say you participated in the dream; you participate in the vision. That's what made things happen," said AIDS Care Ocean State CEO, Paul Fitzgerald.
Sister Ann Keefe died Sunday at the age of 62. She was receiving hospice care due to brain cancer.
Her contributions to the community and personal relationships will never be taken for granted.
Gov. Gina Raimondo said, "She was a confidant and a friend and just always there for me if you had a struggle or you needed good judgment or wise council. She was the person to go to."
©2014 ABC6/WLNE-TV. All Rights Reserved.