Situation report from Boston regarding bombings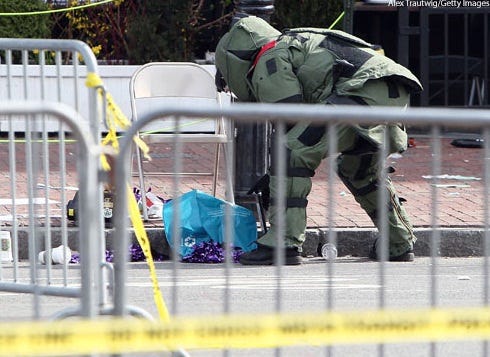 Situation:
Two explosions took place at approximately 2:50PM at the finish line of the Boston Marathon on Boylston St, causing numerous injuries. A third explosion occurred at the John F. Kennedy Library; the resulting fire has been extinguished. It is not known at this time if this is related to the explosions at the marathon finish line.

First responders continue to receive numerous reports of suspicious packages along the marathon route and are investigating each as they are received.

The State Emergency Operations Center in Framingham remains at a Level 2 (Full) activation.

The MEMA Mobile Emergency Operations Center will be standing down in Brookline at 8:30PM.

The Newton EOC stood down at 7:00PM.

Health and Medical:

The DFS rehab unit and ISU have stood down.
Private ambulance services are continuing to assist Boston as needed.

Evacuation and Sheltering:

Newton, Brookline, and Boston set up temporary evacuation centers to house runners and spectators. As of 8:00PM, the centers in Newton and Brookline have closed, with an unknown number of people currently being housed in Boston.
Red Cross Safe and Well is active. Individuals can register themselves as safe or search for loved ones at redcross.org/safeandwell.
Google has set up a Person Finder for the Boston marathon explosions at http://google.org/personfinder/2013-boston-explosions.

Transportation:

Mass Pike Exit 22 (Prudential Center / Copley Sq) on the eastbound side remains closed to traffic except for first responder vehicles.
The Green Line has resumed service on all lines, with the exception of Copley Station. Copley Station will be closed until further notice.
Logan Airport is open. Both incoming and departing flights are operational.
Beacon Street in Brookline is open in both directions to Park Dr. in Boston.
Brookline has opened the following cross streets to help relieve congestion on Beacon St:

o Harvard St. @ Beacon St.

o Washington St. @ Beacon St.

o Dean St. @ Beacon St.

o St. Paul St. @ Beacon St.

o Carlton St. @ Beacon St.

Amtrak trains are operating as scheduled.

Additional Situational Awareness Statements will be issued as more information becomes available.