Six Days, Six Arrests in Richmond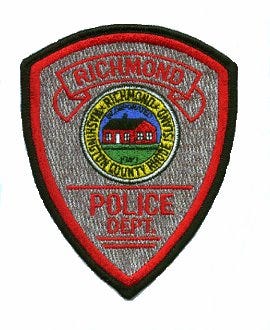 By: News Staff
news@abc6.com
RICHMOND, R.I. – The Richmond Police Department has made six arrests in the past six days.
On Friday, Kiel L. Teklinsky, 33, of Warwick, was arrested on a charge of Operating on a Suspended License after a motor vehicle stop revealed that his driver's license had been suspended in July for Failure to Appear/Pay.
On Saturday, Stephen A. Cook, 49, of Richmond, was arrested on charges of Domestic Simple Assault/Battery and Domestic Disorderly Conduct. Officers responded to Cook's home after Cook called 911 to report that his family member had suffered an injury after he threw household items at them during a fight. The victim suffered a minor injury.
On Tuesday, a 12-year-old juvenile male of Richmond, was arrested after his mother called police for assistance because the male was "out of control" and throwing items in the house while yelling profanities. Officials say once the juvenile calmed down, he was released back to his family.
On Tuesday, David S. Oliver, 53, of Wakefield, was arrested and charged with Driving Under the Influence of Alcohol and/or Drugs and Refusal to Submit to a Chemical Test. At approximately 12 a.m., a Hopkinton police officer discovered Oliver's vehicle parked, facing the wrong way, at the intersection of Nooseneck Hill Road and KG Ranch Road. Oliver's vehicle had damage to the front bumper and was missing a tire. Oliver was arrested on suspicion of a DUI after sobriety tests.
Also on Tuesday at approximately 2:30 a.m., when Rebecca K. Thomas, 29, of East Hampton, C.T., was charged with Driving Under the Influence of Alcohol and/or Drugs. Thomas' vehicle was stopped for swerving outside of the lane on Kingston Road. Thomas's Breathalyzer test revealed readings of .197 and .190 and was later released on $1,000 personal recognizance.
Another arrested occurred on Tuesday when a 14-year-old juvenile male student was arrested on a charge of Disorderly Conduct at the Chariho RYSE Program. The juvenile engaged in a disruptive and profane verbal fight with staff and his parent, as well as the officer. The male was returned to his parent and will be petitioned into Family Court on the charge.
©WLNE-TV / ABC6 2016