Sleeping Cop Charged with Indecent Exposure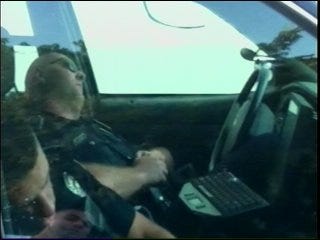 Back in August, ABC6 broke the story of two Pawtucket police officers sleeping on the job. The officers were exposed in our exclusive viewer video. Now ABC6 has learned one of those officers is in trouble with the law, accused of exposing himself in public.
Officer Nichalas Laprade was arrested by State Police in the early morning hours last Tuesday, November 9th. State Police were notified by two women traveling along route 6 in Providence, where they allege Laprade was driving alongside them, masturbating in his red pick up truck. Laprade has been arraigned, where he pleaded not guilty to charges of indecent exposure and disorderly conduct.
Pawtucket police tell ABC6 Laprade has been suspended with pay pending the outcome of the charges. Laprade is due back in court on Friday.
According to a State Police report, Laprade did have an explanation for the situation, saying he had hernia surgery in late October and was experiencing discomfort. He went on to say he decided to urinate into an empty Gatorade bottle that he had in his truck.
Tune in today First at Four as ABC6 for a full report.