Small protest outside Providence Dunkin Donuts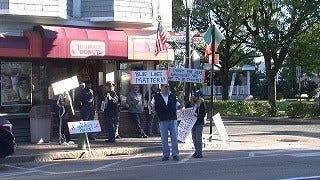 A small group of protestors gathered outside of a Providence Dunkin Donuts Saturday morning.
It was at that Dunkin Donuts last week that a Providence Police Officer was given a cup that said #blacklivesmatter.
The protest was led by a former providence police officer.
He says he wants to see the employee that wrote that fired.
"I just want people out there to support their police department. I was a policeman for seventeen years and I know how tough this job is. I think this group targeted coffee shops because they know that police are out there eight hours and that they love coffee," said Tony Lepore.
ABC 6 News received the following statement from Dunkin Donuts regarding the protest:
"We are aware of a protest on Saturday and it is our hope that those considering a protest at the Dunkin' Donuts restaurant on Atwells Avenue will reconsider. We have reached out to the officer, the Chief of Police and others in the law enforcement community to make a full apology for the poor judgment demonstrated by a Dunkin' Donuts crew member.
We deeply regret the incident, and we are committed to showing our appreciation and respect for all officers, and for every guest who makes Dunkin' Donuts part of their daily lives."
(C) WLNE 2015