Smiley endorses Elorza, says Solomon is a "step back for Providence"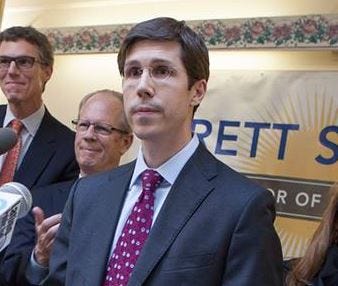 By: Dee DeQuattro
Email: ddequattro@abc6.com
Twitter: @deedequattro
Providence Mayoral Candidate Brett Smiley has officially announced he is leaving the race and endorsing his former opponent Jorge Elorza for mayor.
Smiley said Elorza is the best "chance of moving Providence forward."
Smiley said he will now spend his time and energy to ensure that Elorza beats primary opponent Michael Solomon.
"It's become increasingly clear that Michael Solomon's election would be an enormous step backwards for Providence, and another old-time politician currently undergoing an ethics violation is by no means the right person to take on Buddy Cianci," said Smiley. Smiley noted that Elorza shares his values and vision.
Elorza said he is honored to have Smiley on his team and noted that the substance and ideas put forth by Smiley have improved the race.
(C) WLNE-TV 2014