Snow and ice make for a difficult commute in RI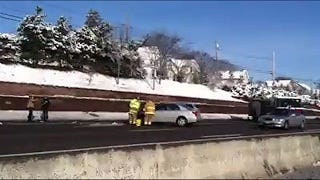 By: Samantha Lavien
Twitter: @samanthalavien
Rhode Island State Police responded to a dozen weather related accidents Tuesday morning between 6:30 a.m. and 9:30 a.m.
Many in the area say it was a difficult commute.
"It was icy it was slippery," said Lala DeRosa of East Providence.
"People were very carefully driving, so kind of bogged down a little bit. There were a few cars on the side of the road so people were being very leery I think of any kind of disturbance," said Maureen Martin of South Kingstown.
As a result of the snow, Cumberland Collision has received four cars with damage in the past 24 hours. The President of the company Chuck Lombardi says his shop has seen many cars with snow related damage so far this season.
"We've had a few people spin out and hit guard rails and other people hit other vehicles and slide through intersections because roads weren't treated enough," said Lombardi.
And as we head into yet another snow storm in Southern New England, Lombardi says his repair shop has already seen more snow related damage than last year.
"There's been about 20 percent more than there was last year at this time," said Lombardi.
(C) WLNE-TV 2014