Snow day means online school day for some students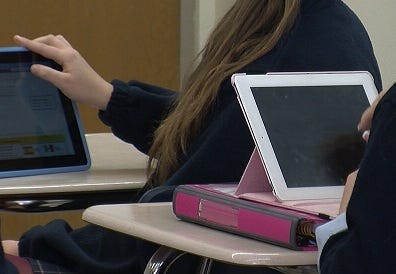 By: Chelsea Priest
Sleeping in, taking the day off from homework and of course sledding, all things a kid looks forward to on a snow day. One Taunton high school has different plans though.
When students at Coyle and Cassidey Memorial High School found out they had to log into a virtual classroom on a snow day last week, they weren't thrilled. Robert Scaramuccia is a junior at the school. He says "I was not too happy about it, being in some of the more rigorous classes I already had a lot of work to day and we would just have more busy work and it would be horrible."
Academic Vice Principal, Kathleen St. Laurent said, "We have an I-Pad initiative, we utilize technology every day in our classrooms, let's see if we can do an experiment and have an online learning day during our snow day."
All 500 students at the Catholic high school are required to have their own I-Pad which teachers upload lessons and study guides to. So, when school was canceled the day before the snow came, teachers were asked to make plans.
Kerrin Willis is and English teacher at the school. She said, "This gave them the ability to stay in the groove so that when they came in on Thursday, they hadn't had a day off, they knew what we were going to cover the day before."
Once students found out the work the teachers were putting into their lesson plans, and that they could log onto the virtual classroom whenever they wanted on the snow day, they came around to the idea. High school junior Rebecca Santos said, "When the teachers explained what their assignments were going to be its stuff we actually got to learn with power points and work sheets which helped us improve our knowledge."
St. Laurent went on, "It's an exploration, it's a different way to look at how we can utilize this time and we'll certainly pursue it."
As of right now, the day spent in the virtual classroom did not count as a make up day for the canceled school day.
(C) WLNE-TV 2014