Snow plow drivers hit the roads to clean up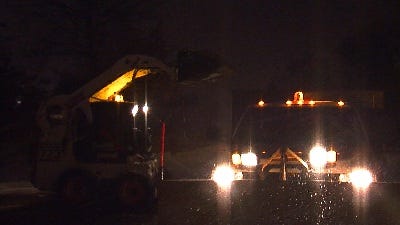 Nicole Gerber
@nicolegerber
WARWICK – The plows were out in force overnight, ready to clear out and clean up the snow.
"We probably deployed about 300–400 people throughout
Massachusetts, Rhode Island, and Connecticut, and probably about another
250–300 trucks and pieces of equipment," said Jason Case, President of Case Snow Management.
Crews were constantly reloading sand and salt, battling snowfall that wouldn't let up before sunrise.
"The roads are snow covered and very treacherous… so it's
making it a little more difficult than we thought, but we'll have it in pretty
good shape," said Case District Manager Tom Colucci.
Plow operators hit the roads even before the first flakes
fell, pre–treating.
But that didn't stop some from pulling all–nighters to make
sure roadways stayed clear, and safe.
"It is tough you know the long hours… they do get to you
after a little while so… our guys they are prepared for the event so they get
plenty of rest and the equipment is prepped so it's basically a turn key
operation," said Case.
Crews will continue their cleanup operations throughout the
day, finishing by removing snow banks later on tonight.
(c) WLNE-TV 2014