Snow Record For Providence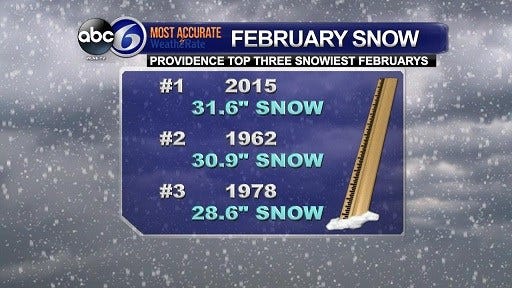 With a fresh 2.6″ snow last night at T.F. Green Airport, Providence has broken its snowfall record for the month of February. The current total is 31.6″, which breaks the old record of 30.9″, set in 1962.
We might not be done with accumulating snow this month, as we could see a little bit of snow on Thursday.
This February hasn't just been snowy, it's also been very cold. The temperatures are running about 14 degrees below normal for the month, and we're on pace for the 2nd coldest February in the recorded history of Providence (records date back to 1905). Needless to say, the case could be made that February 2015 has been the most extreme Winter month in our history.
-Kevin Coskren, ABC6 StormTracker WeatherTeam
@kcoskrenABC6