Snow removal companies so busy, some have to turn away new business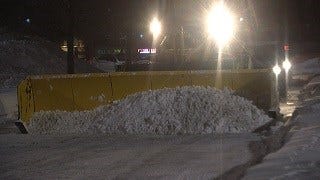 By: Samantha Lavien
Slavien@abc6.com
Twitter: @SLavienABC6
There has been so much snow over the past few weeks that some local snow removal companies are being forced to turn away new business.
"We've been getting a ton of calls from residential home owners from other businesses that we don't service, probably into the hundreds now and we have to turn those people away unfortunately because we are maxed out," said Neal Glatt an Account Executive at Attleboro's Case Management.
Glatt says plow drivers at the company have been working around the clock since the first storm hit.
"We're doing everything we can to keep up with our current customers and contracts," said Glatt. "This is probably that busiest that we have ever been that I can ever remember."
Glatt says it's not just plowing but also snow removal that is so time-consuming.
And, with more snow in the forecast, workers are just hoping to catch a bit of rest before the next storm.
"I can't wait to go home," said plow driver Keith Games.
(C) WLNE 2015