Snowfall Ending Before Daybreak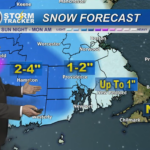 A Winter Weather Advisory is posted through 7 AM Monday for most of RI. However, this is mostly going to be a snow shoveling event for many.
Light snow has spread across the region early this evening and untreated roads have become slippery and snow covered. Drivers should be prepared for lower visibilities (down under a mile at times) tonight. This is going to be a fast moving event, lasting about 10-12 hours and the steadiest period of snowfall will be coming to an end around 2-3 AM as the storm's energy shifts to a developing Low well south of Nantucket and begins to move away from New England. The last of any snows will be completely done by 5-6 AM Monday. So, the Monday morning commute will see clouds breaking up, but where the roads have yet to be treated things will still be quite slippery.
I'm expecting snowfall totals to be on the order of 2-3 inches for the western half of Rhode Island with a couple 4 inch amounts possible in the northwestern hills from Burrillville south to Coventry. The eastern half of the state will end up with 1-2 inches and for Newport county and SE MA an inch or less of snowfall is more likely to result. If you're on the Cape This is mainly a rain event that will end briefly as some wet snow.
Lows tonight will drop into the mid 20s and winds are becoming northerly which will help to bring an end to the steady snowfall. As we go through the day Monday the sky will clear and temperatures will rise into the melting range reaching the mid 30's for highs. For Monday night temperatures will drop back below freezing so any wet surfaces will become slippery again.
The midweek stretch will be cold and dry with highs mostly in the mid 30s and then by the end of the week there looks to be another storm coming our way. Right now, it looks like rain develops Friday and mixes with or possibly changes to Snow Friday night /early Saturday. It is really too soon to call out any details and the look of that potential storm system will certainly change during the week so tune into ABC6 news for all the latest forecast trends.
ABC6 Meteorologist, Bill Gile