Soccer stadium included in $400 million Pawtucket redevelopment plan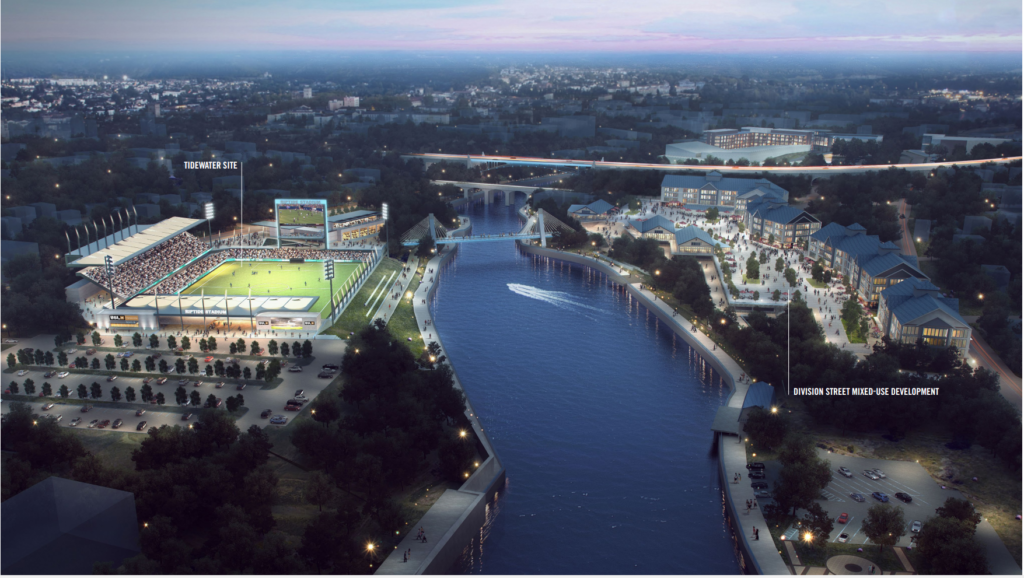 By: Brittany Comak
Email: bcomak@abc6.com
Twitter: @BComakABC6
PAWTUCKET, R.I. (WLNE) – State and city officials announced on Monday the largest economic redevelopment project in Pawtucket's history.
The $400 million redevelopment project includes a professional soccer stadium in downtown Pawtucket.
"There's no doubt that in a couple years from now, Rhode Island will be a powerhouse in soccer in the United States," said the COO of the United Soccer League Justin Papadakis.
The plan will also redevelop the Apex Center into an entertainment center.
Governor Gina Raimondo estimates the new development will create 4000 jobs.
The project is called 'Tidewater Landing and it will include the following:
Mixed-use development with more than 200 housing units, 100,000 square feet of retail, including food, beverage, and other community space
An indoor sports event center
A 200-room hotel
A 7,500-seat stadium that will house a USL Championship soccer team, expected to begin play in the 2022 season
200,000 square feet of commercial office space
Pedestrian bridge and river walkways
"It's going to light up Pawtucket. It's more than just soccer, more than just retail," said Governor Gina Raimondo at the announcement Monday.
It will require $70 million to $90 million in public investments that will primarily come from the state.
The funds will rely on freshly approved tax increment financing tools, as well as the federal "Opportunity Zone" tax incentives.
At this time, there are no public votes expected, nor does the General Assembly need approval.
"A couple of years from now in 2022 when we come back and we see this, and there's a hotel, and a development, and an event center, and our own soccer team, we'll look back on this day as a very important day for Rhode Island and Pawtucket," said Raimondo.
Any possible plan for McCoy stadium was left out of the Tidewater Landing proposal, though officials say it's still on their minds.
The stadium will be empty once the PawSox leave the city for Worcester in 2021.
"Do we keep baseball there? Do we move on and do other things? So that got put on the wayside when this all came out because this is a bigger development," explained Pawtucket Mayor Donald Grebien.
But the hope is that bringing in the soccer team could help fill the void being left by the PawSox, for fans, as well as for the economy.
"There's work to be done but we feel that all these challenges are very surmountable, and we're looking forward to playing the first soccer game in 2022," said Governor Raimondo.
Officials say they hope to have more clarity about what to do with McCoy at the beginning of next year.
As for the soccer team, officials are hoping to crowd source Rhode Islanders for a team name and logo.
©WLNE-TV/ABC6 2019